Manson follower freed after 53 years
Leslie Van Houten participated in one of the most notorious killing sprees in recent US history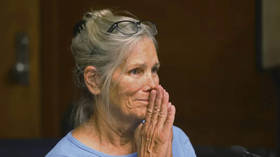 Leslie Van Houten, a former follower of cult leader Charles Manson, was released from prison on Tuesday after serving 53 years for her role in an infamous double-murder in Los Angeles, California in 1969.
"She's really thrilled, but she's been in prison for 53 years and turns 74 next month, so this is a huge change," Van Houten's lawyer, Nancy Tetreault, told The Guardian on Tuesday. Tetreault added that her client had dedicated herself to reform during her incarceration, where she underwent 40 years of therapy and 30 years of "rehabilitative programming."
"She fell under the influence of Charles Manson and participated in these horrible murders," Tetreault said of the group, which became known as the 'Manson Family'. "And she had to confront her feelings of crushing guilt over what she did."
Van Houten was sentenced to life in prison after being convicted of assisting in the killings of Leno LaBianca and his wife Rosemary when she was just 19. The slayings were part of a larger killing spree at Manson's behest, and came a day after the murders of actress Sharon Tate and four others at the Los Angeles residence that Tate shared with director Roman Polanski in August 1969. Van Houten had no role in the Tate murders.
She has been released under parole supervision and is expected to spend around a year in transitional housing after her parole was approved by officials despite continued opposition from California Governor Gavin Newsom and his predecessor Jerry Brown. In all, Van Houten attended 21 parole hearings and was recommended for release five times since 2016.
Newsom said last week that, despite his disappointment at the parole board's decision to release Van Houten, he would not appeal because it would be unlikely to succeed. Cory LaBianca, the now-75-year-old daughter of Leno LaBianca, said she was "heartbroken" by Van Houten's release.
However, Van Houten's lawyer said her departure from prison, along with her apparently successful rehabilitation, will serve as an inspiration for other inmates serving long sentences, demonstrating that parole and "a chance at a decent life" are possible.
Tetreault indicated that her client wouldn't find the realities of life easy after more than a half a century behind bars. "She doesn't know how to use a computer or a cell phone or how to buy things without cash money or negotiate a supermarket," she said.
Charles Manson died in prison in 2017 at the age of 83.
You can share this story on social media: