North Korea warns of 'shocking' consequences for US spy planes
Pyongyang has said that US reconnaissance missions are a "grave encroachment" into its sovereign territory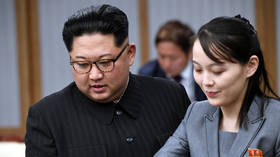 Kim Yo-jong, one of North Korea's top foreign policy officials, claimed in a Monday statement that Pyongyang had warded off a US spy plane, and said that there would be "shocking" repercussions should Washington continue reconnaissance operations close to its territory.
Kim, who is the sister of North Korean leader Kim Jong-un, claimed in a strongly-worded statement issued via Pyongyang's KCNA news agency on Monday, that the US spy aircraft had strayed within the boundaries of North Korea's eastern exclusive economic zone.
In the statement, Kim said that the presence of a US aircraft detection inside the DPRK's 200 nautical mile economic zone represented a "grave encroachment upon the sovereignty and security" of North Korea. She added that Pyongyang's warplanes were scrambled to chase off the US aircraft.
The political staredown comes amid increased tensions between North Korea and the United States, after the nuclear-armed nation increased its opposition to US involvement in affairs on the Korean Peninsula in the wake of an uptick in military drills involving Washington and its key ally in the region, South Korea.
Kim stated that continued United States reconnaissance would incite a "shocking incident" in an area where "US spy planes habitually intrude into the sky above the economic water zone of the DPRK." She further commented on Tuesday that US forces will experience a "very critical flight" should the intrusions continue.
However, according to deputy Pentagon press secretary Sabrina Singh, Pyongyang's claims are "just accusations." She reinforced that the US "remains committed to safely and responsibly flying, sailing, operating anywhere that international law allows."
The US State Department, meanwhile, called for Pyongyang to cease its "escalatory actions," according to a statement from its spokesperson Matthew Miller. South Korea's joint chiefs of staff concurred that Washington was conducting standard reconnaissance tasks in concert with Seoul's military, according to a spokesperson.
North Korea has frequently objected to United States and South Korean military exercises near its territory. It has also said that recent missile tests, as well as an expansion of its own military assets, are necessary in the face of US aggression.
Last week, Seoul analyzed the wreckage of a crashed North Korean surveillance satellite which Pyongyang announced was designed to monitor United States military forces. South Korean investigators said they determined that the device has "no military utility as a reconnaissance satellite at all."
You can share this story on social media: