South Korea comments on North's crashed satellite
Pyongyang has said that the spacecraft had been created to monitor US military activities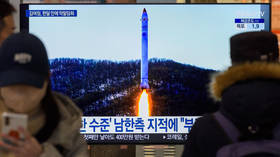 South Korea announced on Wednesday that it has recovered wreckage from a failed North Korean satellite launch, which plunged into the ocean off the west coast of the Korean Peninsula soon after takeoff in late May. Following analysis Seoul has determined that the unit intended for orbit "had no military utility as a reconnaissance satellite at all."
The Chollima-1 rocket and its payload, which Pyongyang claimed was a military surveillance satellite, failed on May 31 due to an engine and fuel system fault, North Korea's KCNA news agency reported at the time.
On Wednesday, Seoul's military said: "After detailed analysis on major parts of North Korea's space launch vehicle and satellite which were salvaged, South Korean and US experts have assessed that they had no military utility as a reconnaissance satellite at all."
The South Korean military began what would be a 36-day salvage operation involving aircraft, its navy and deep-sea divers soon after the rocket splashed down off its west coast. Experts analyzed what was described as "numerous" and "key" parts of the device, in what was the first time that Seoul had retrieved a satellite launched by its northern neighbor, according to military experts.
The analysis found that the reconnaissance capability of the satellite was insufficient to adequately trace targets, according to Lee Choon-geun of South Korea's Science and Technology Policy Institute.
Last month, Pyongyang admitted that the launch had been the "gravest failure" but pledged to maintain its efforts to orbit a spy satellite, which it says will enhance its capabilities to monitor United States military activities.
Pyongyang launched what it called observation satellites in 2012 and 2016, but there is no indication as to their functionality. The May 31 launch by nuclear-armed North Korea was condemned by South Korea and Japan as a violation of rules imposed on Pyongyang by the UN Security Council as it relates to the use of ballistic missile technology.
North Korea maintains, however, that its efforts to launch military satellites – and its nuclear program as a whole - are defensive in nature, and necessary in the face of aggression by the United States and its allies.
You can share this story on social media: