FBI colluded with Ukraine in social media crackdown – lawmakers
The bureau failed to properly vet information provided by Kiev, the US House Judiciary Committee says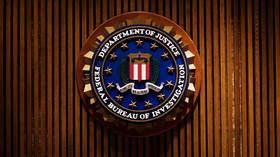 The FBI cooperated with Ukraine's Security Service (SBU) to clamp down on social media accounts disseminating alleged "Russian disinformation," but ended up flagging pages run by the US State Department and American journalists, a report by the House Judiciary Committee has revealed.
Released on Monday, the report accused the FBI of not properly vetting lists of accounts provided to it by the SBU before sending them to the likes of Meta, Google, and Twitter.
As a result, the two agencies "flagged for social media companies the authentic accounts of Americans, including a verified US State Department account and those belonging to American journalists," and requested that those pages be deleted, the document read.
On some occasions, the FBI followed up to ensure that "these accounts were taken down," according to the report, which was based on documents subpoenaed from Meta and Alphabet in February.
In one of the SBU's lists forwarded by the FBI to Meta, the official Russian-language Instagram account of the US State Department was described as "distribut[ing] content that promotes war, inaccurately reflects events in Ukraine, justifies Russian war crimes in Ukraine in violation of international law," the report stated.
CNN pointed out that Meta, which owns Instagram and Facebook, apparently did not comply with the request to delete the State Department page.
Another moderation request filed to Facebook by the US domestic security agency included a roster of 5,165 accounts, the House Judiciary Committee said.
The report cited an email by a senior Twitter employee who indicated to the FBI that "a few accounts of American and Canadian journalists" were on one of the lists sent to the company by the agency.
Alphabet platforms Google and YouTube were also approached about censoring alleged pro-Russian accounts. A high-ranking member of Google's cybersecurity team told the authors of the report that the company had been "deluged with various requests" for the removal of content, mainly from "the Ukrainian government, other Eastern European governments, the European Union, and the European Commission."
The House Judiciary Committee suggested that the FBI had "violated the First Amendment rights of Americans and potentially undermined our national security" through its partnership with the SBU, claiming that the latter had been "infiltrated by Russian-aligned actors."
The author of the paper noted the purge within the SBU by Ukrainian President Vladimir Zelensky last summer, which saw the agency's head sacked and hundreds of criminal cases launched against employees on treason charges.
The report was released ahead of FBI Director Christopher Wray's testimony before the House Judiciary Committee, which is scheduled for Wednesday.
A Judiciary Committee aide told CNN that the Republicans on the panel are planning to question Wray about the content of the paper and use it to claim that the FBI interferes in free speech.
You can share this story on social media: