Biden pressures Türkiye on NATO expansion
The US wants to push through Swedish membership of the military bloc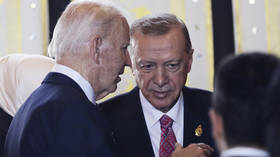 Turkish President Recep Tayyip Erdogan has warned his US counterpart, Joe Biden, that he has not yet seen enough progress from Sweden on anti-terrorism measures to approve the country's application for NATO membership.
In a telephone call with Erdogan on Sunday, President Biden "conveyed his desire to welcome Sweden into NATO as soon as possible," according to a brief readout released by the White House.
Erdogan, however, noted that while Stockholm had taken some positive steps by revising its anti-terrorism legislation, it still allowed pro-Kurdish "terrorist organizations" to hold public demonstrations.
"This nullifies the steps taken," Türkiye's communications directorate quoted Erdogan as saying in a statement on the phone call, held ahead of this week's NATO summit in Vilnius.
Sweden and neighboring Finland applied for NATO membership last year, breaking with their long traditions of military neutrality on security concerns raised by the Russia-Ukraine conflict. Finland was officially admitted to the Western bloc in April, but Türkiye essentially blocked Sweden's bid after accusing the country of sheltering Kurdish terrorists. The alliance's bylaws require unanimous approval before new members can be admitted.
Biden had previously pressured Erdogan to approve Sweden's NATO application by linking the decision to US approval for the sale of F-16 fighter jets to Ankara. Sunday's Turkish statement suggested that Biden may have agreed to decouple the issues.
According to Ankara, Erdogan said it was not appropriate to tie Türkiye's F-16 request to Sweden's bid, and he thanked Biden for supporting the fighter jet deal, though the White House only said that the leaders "reviewed efforts to strengthen our bilateral ties." The two leaders also agreed to meet on the sidelines of the Vilnius summit to further discuss bilateral issues.
You can share this story on social media: