French anti-cop activist claims police brutality (VIDEO)
Youssouf Traore was tackled by officers after he attempted to resist arrest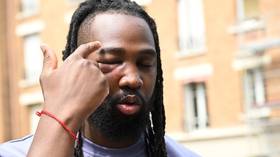 A man arrested in Paris during a memorial protest for his brother said on Sunday that he will file a complaint against the officers who broke his nose and injured his eye. Video footage of the man's arrest went viral amid heightened social tensions in France.
Youssouf Traore was detained on Saturday after he allegedly hit a police officer during a prohibited gathering in memory of his brother Adama, who died in police custody seven years ago.
Video footage of Traore's arrest showed armored riot police approaching the 29-year-old after his alleged attack on law enforcement. Traore argued with them before resisting arrest and apparently shoving one officer. He was swiftly tackled and restrained, before being led away to a police vehicle. During the melee, another officer shoved a shrieking woman to the ground.
Traore was later hospitalized, and the charges against him temporarily dropped, the Paris prosecutor's office told AFP.
On Sunday, a social media account named 'Justice for Adama' released a statement from Traore claiming that he had suffered a broken nose and injuries to his eye, chest, back and head during the arrest, and would be lodging a complaint with the prosecutor's office. In a video accompanying the statement, Traore's eye was visibly swollen.
Communiqué de presse :Yssoufou Traore a été interpellé hier lors de la marche réclamant la justice dans l'affaire du décès de son frère Adama Traore.Yssoufou Traore a été victime de violences commises par des policiers de la BRAV-M qui semblent disproportionnés et illégitimes, pic.twitter.com/yod6DLKPpE

— La Vérité Pour Adama (@laveritepradama) July 9, 2023
The incident was condemned by left-wing politicians and journalists, more than a dozen of whom protested outside the Paris police station where he was held on Saturday night, AFP reported.
Back in 2016, the death of Adama Traore triggered widespread protests and rioting. The cause of his death is disputed, with an official inquest ruling that he died of hyperthermia, and his family claiming he was asphyxiated by police. An inquest later cleared the three arresting officers of any wrongdoing.
Adama Traore was arrested alongside a third Traore brother, Bagui, for the alleged assault and extortion of a disabled woman. Adama had previously served time for assault, theft, extortion, and drug dealing, and had been released from prison two months before his death.
Youssouf Traore's arrest comes less than two weeks after the fatal shooting of a French-Algerian teenager by police sparked nationwide rioting. Rioters, primarily youths from immigrant backgrounds, torched cars and businesses and attacked police officers in towns and cities across the country. By the time the violence subsided last week, more than 3,700 people had been detained.
You can share this story on social media: