France blocks NATO plans for Japan – Politico
The North Atlantic Treaty Organization must stay true to its name, Paris has insisted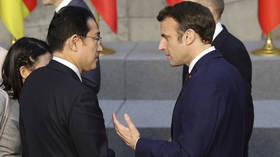 Paris has refused to approve a scheme to open a NATO liaison office in Japan, arguing the bloc should not extend itself beyond the North Atlantic, according to an Elysee Palace official cited by Politico.
"NATO means North Atlantic Treaty Organization," the official told journalists on Friday, warning against blurring the lines and emphasizing that even the much-hyped Article 5 of the bloc's treaty specifically refers to maintaining the "security of the North Atlantic area."
In May, Japanese Ambassador to the US Koji Tomita said that Japan was working towards opening a NATO liaison office in Tokyo, which would become the bloc's first in Asia. The scheme has been discussed intermittently since 2007, when then-Prime Minister Shinzo Abe first visited NATO's headquarters, and was raised again in recent months.
"We are not in favor as a matter of principle," the French official added. "As far as the office is concerned, the Japanese authorities themselves have told us that they are not extremely attached to it."
French President Emmanuel Macron personally believes that the body's charter imposes geographic limitations which bar NATO from expanding into Asia, according to a recent report by the Financial Times.
Tokyo has steadily increased its cooperation with the bloc over the years, opening its first NATO branch office in Brussels in 2018.
Prime Minister Fumio Kishida became the first Japanese leader to attend a NATO summit last year. Japan, as well as Australia, New Zealand, and South Korea, have also been invited to the 2023 summit, which will take place in Vilnius, Lithuania on July 11 and 12, as the bloc shows increased interest in the Indo-Pacific in recent years.
China has objected to NATO's creeping expansion, claiming that the bloc should remain within its own sphere of influence and not seek to grow its presence in Asia, arguing the region "does not welcome bloc confrontation or military blocs."
Russia, which strongly opposes NATO's expansion in Eastern Europe, also criticized the bloc's attempts to extend its activities into Asia. In March, Russian President Vladimir Putin said the push by the US and its allies to create what he called a "global NATO" resembles the actions of Nazi Germany, Italy, and Japan in the 1930s before the outbreak of World War II.
You can share this story on social media: