China responds to NATO initiative in Japan
The US-led military bloc should not extend its reach beyond the North Atlantic, Beijing has insisted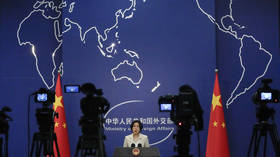 China has urged Japan to act responsibly after Tokyo confirmed that it is in talks to build a NATO liaison office on its territory, saying Beijing would not accept "bloc confrontation" in the Asia-Pacific.
Asked about the plans during a Wednesday press briefing, Chinese Foreign Ministry spokesperson Mao Ning said NATO should remain within its own sphere of influence and not seek to grow its presence in Asia.
"NATO claims to be a regional organization and should not extend its geopolitical reach. The Asia-Pacific does not welcome bloc confrontation or military blocs," she said, adding "Given Japan's history of aggression, it needs to be prudent on military and security issues and make sure its actions are conducive to regional peace and stability."
Japanese Prime Minister Fumio Kishida confirmed reports about the proposed liaison office earlier on Wednesday, telling lawmakers that discussions are underway, but that he was "not aware of any decision made." He noted that Tokyo would not seek to join NATO, despite stepped-up cooperation with the bloc in recent years.
It is unclear exactly what role the office in Japan might serve, but sources cited by the Nikkei Asia outlet said it would likely be a one-man station meant to facilitate consultations with allied officials.
NATO has been open about its intentions to expand into the Pacific. Last summer, it invited several Indo-Pacific countries to a summit for the first time, while Japan, South Korea, New Zealand and Australia are expected to attend a major event in July.
Japan also recently hosted a delegation from NATO's Cooperative Security Division, which met with senior military leaders in April to "discuss the current military cooperation and opportunities to foster a stronger partnership."
Beijing has voiced opposition to the liaison office before, urging its neighbors to maintain "high vigilance" as NATO looks for a foothold in the region. Earlier this month, the Foreign Ministry warned that the bloc's interference in local affairs and continued eastward expansion would "inevitably undermine regional peace and stability," insisting Asia must not become a "wrestling ground for geopolitical competition."
You can share this story on social media: