White House find confirmed as cocaine
Media outlets have suggested that it might be "difficult" for the US Secret Service to find the culprit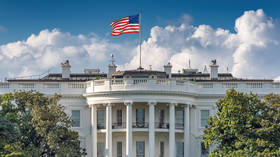 A US laboratory test on Wednesday confirmed the initial findings that the powder found at the White House over the weekend was in fact cocaine. The Secret Service and the FBI are investigating how the drug got into the West Wing, but some officials are saying it may never be known.
Uniformed Secret Service officers found a "small, zippered bag" in an electronics storage locker on Sunday. The white powder inside prompted the evacuation of the White House, until the field test showed it to be cocaine. A subsequent lab test confirmed the result, an "official with knowledge of the investigation" told NBC News.
Politico also quoted an official familiar with the probe, who said it will be "very difficult" to find the bag's owner, given that it "may not have been caught" by any surveillance cameras, and that the locker was in an area frequented by White House staff as well as visitors.
"It's a bit of a thoroughfare. People walk by there all the time," the anonymous official said. Politico described the area as "highly trafficked."
President Joe Biden and his family were at Camp David over the weekend, White House press secretary Karine Jean-Pierre told reporters. Biden has been briefed about the incident, which is being investigated by the Secret Service and the FBI.
Cocaine is a Schedule II narcotic in the US, illegal to possess without a doctor's prescription. It has also been the drug of choice of Biden's son Hunter, who admitted to his addiction in a recent memoir, after video evidence of it was found on the laptop he abandoned at a Delaware repair shop.
You can share this story on social media: