White House evacuated over cocaine
A Hazardous Materials team was called to the grounds after a substance was discovered, authorities have confirmed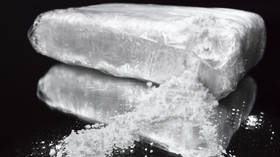 The White House and the surrounding area were evacuated on Sunday as the Secret Service investigated an unknown substance found on the grounds that turned out to be cocaine, the authorities have confirmed.
The grounds were cleared "as a precaution" after the Secret Service's Uniformed Division Officers spotted an "unknown item on the White House complex" at 18th Street and Pennsylvania Avenue, a Secret Service spokesman told reporters on Sunday.
The Washington, DC Fire Department's hazardous materials team was dispatched to evaluate the find, while the Secret Service closed down multiple streets in the area around the White House.
DC Emergency Medical Services soon deemed the substance "non-hazardous" and the streets were reopened. The mystery substance tested as "cocaine hydrochloride," a recording from DC Fire and Hazmat tweeted by radio aggregator OpenMHz confirmed.
Cocaine is a Schedule II narcotic in the US, meaning it has a high potential for abuse and addiction and is illegal to possess without a doctor's prescription. The Secret Service was reportedly still investigating the origins of the substance as of Sunday night.
Local authorities were said to be on high alert after an incident early Sunday morning in which several explosive devices and a "Molotov cocktail-style object" exploded outside three businesses in the city's northeast. The suspect was still at large at the time of the cocaine discovery at the White House.
Social media users took the opportunity to poke fun at President Joe Biden's son Hunter Biden, whose struggles with drug addiction are well-documented and acknowledged by both father and son, noting he had recently attended a state dinner at the White House. No evidence has been produced connecting the discovery to Biden Junior, however.
Global cocaine production is at record levels, according to a report published earlier this year by the United Nations Office on Drugs and Crime. Record seizures of the drug have been recorded – in the largest-ever narco-submarine, on the high seas outside New Zealand, and in Belgian ports, where so much was intercepted it could not be destroyed using standard methods.
You can share this story on social media: