UK territory mulls 'alternative forms of governance'
The Orkney Islands are considering a proposal to become part of Norway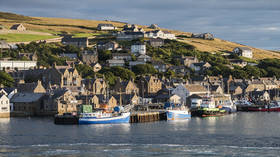 The Orkney Islands, off the north coast of Scotland, are exploring options to leave the United Kingdom and become a self-governing territory of Norway, after the local leadership blasted the governments in Edinburgh and London for "failing" the islanders.
A motion to be discussed on Tuesday by the Orkney Islands council has called upon the archipelago – consisting of more than 70 islands and islets – to move closer to its "Nordic connections" in pursuit of "alternative forms of governance," according to council leader James Stockan.
Orkney was under Norwegian and Danish control until 1472, when they were transferred to Scotland as part of a dowry arrangement for Margaret of Denmark's marriage to King James III of Scotland.
"We were part of the Norse kingdom for much longer than we were part of the United Kingdom," Stockan told the BBC in comments published on Sunday.
He added that islanders feel a "deep cultural relationship" to their Nordic heritage, and that a reunion could be beneficial to the local economy, which he said has been "failed dreadfully" by Edinburgh and London.
Stockan has claimed the Orkney Islands do not receive sufficient funding from the UK government, particularly in comparison to Crown Dependencies such as the Channel Islands or overseas territories like the Falkland Islands.
"The funding we get from the Scottish government is significantly less per head than Shetland and the Western Isles to run the same services," Stockan said. "We can't go on as we are." The motion also references the Faroe Islands – a self-governing territory of Denmark located in the North Sea.
Orkney islanders voted in a 2017 referendum to have a "stronger voice" in their relationship with the United Kingdom – but did not back full autonomy from the mainland.
Stockan, though, says that while an in-depth study of the islands' finances has not yet been carried out, revenues from oil and wind projects off its coast should be supporting locals rather than being funnelled to the UK government. "The dividend we get back isn't sufficient to keep us going," he said.
The UK government has said that the Orkney Islands will be included in a £50 million ($63.4 million) fund to help develop the economies of Scottish islands. "We will always be stronger together as one United Kingdom, and we have no plans to change the devolution settlement," a government spokesperson said.
You can share this story on social media: