Swedish NATO membership is a pipe dream – Turkish parliament speaker
The burning of the Koran in Stockholm was an "anti-human" act that can't be defended, Numan Kurtulmus says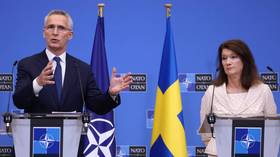 Sweden's desire for membership of NATO will remain an unfulfilled dream if the country continues with provocations and remains reluctant to hand terrorist suspects over to Türkiye, the speaker of the Turkish parliament has warned.
The burning of the Koran by activists in Stockholm last week was "an extraordinarily provocative, anti-Islamic, anti-human action" that can't be defended in any way, Numan Kurtulmus told Milliyet newspaper on Monday.
Sweden claims to be a democratic country where different beliefs and ideas are respected, but this has proven to be "untrue," he said.
The fact that Ankara approved Finland's application to join NATO doesn't mean the same thing will happen with the Swedish bid, said the lawmaker.
Stockholm and Helsinki broke with their decades-long policy of neutrality and applied to join the US-led military alliance last year, citing concerns over the conflict in Ukraine. Finland became the 31st NATO member in April, while Türkiye remains opposed to Sweden joining the bloc.
Ankara has accused Stockholm of being reluctant to hand over "terrorists" from the Kurdistan Workers' Party (PKK) and other associated groups, which have been outlawed by the Turkish authorities. The approval of all member states is needed for NATO to expand.
"They [Sweden] will engage in provocative actions and, at the same time, ask for approval to join NATO. Excuse me, but Türkiye is a country that sticks to its word. Whatever it says, whatever it promises, it delivers, but we also want others to keep their word. For Sweden, which doesn't keep its promises, expecting NATO membership is just a pipe dream," Kurtulmus said.
However, he maintained that Türkiye was "not categorically opposed" to Stockholm becoming a member of NATO, but for that to happen "Sweden has to do its own homework," he said. "It has to prevent those provocative acts. It has to extradite the ringleaders of the anti-Türkiye terrorist organizations."
The burning of the Koran had been condemned by Türkiye and other Muslim countries, while protesters overran the Swedish embassy in Iraq. When asked about the issue last week, NATO chief Jens Stoltenberg said the act of defacing Islam's holy book was "offensive and objectionable [but] not necessarily illegal."
The controversy comes ahead of this year's NATO summit, which is scheduled to take place in the Lithuanian capital Vilnius on July 11 and 12.
You can share this story on social media: