Iran scolds France over violent unrest
Tehran has also issued a travel advisory, warning its citizens against "unnecessary trips" to France in light of the ongoing rioting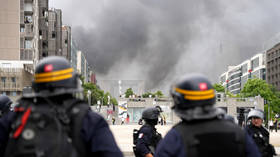 The Iranian Foreign Ministry on Sunday urged the French government to exercise caution and restraint in dealing with continuing widespread protests and rioting across the country. It has also urged Iranian nationals to avoid traveling to France, citing conditions there.
"Just like in the past, we advise the French government and police to heed the demands of the protesters while exercising restraint and avoiding violence," ministry spokesman Nasser Kanaani stated.
Kanaani also suggested that the unrest in France, as well as the situation in other unspecified European nations, stemmed from allegedly "discriminatory treatment" of migrants and the reluctance of the respective governments to address it. He also called upon Paris to respect the people's basic rights and allow "peaceful protests" to go on unhindered.
The French government is expected to put an end to the violent treatment of its people by respecting the principles of human dignity, freedom of expression, and the right of citizens to peaceful protests.
Apart from urging French authorities to exercise caution in dealing with the chaos, Tehran has also urged its citizens to refrain from taking "unnecessary trips" to France as long as the security situation remains questionable.
The violence in France was triggered by the fatal police shooting of Nahel M. during a traffic stop in the Paris suburb of Nanterre earlier this week. The 17-year-old was fatally wounded at point-blank range, dying shortly afterward.
The incident triggered angry protests and outright rioting across the country, with property and cars being destroyed, and multiple public buildings being attacked by rowdy crowds. With hundreds of people arrested and over 45,000 law enforcement officers deployed onto the streets, the French government has thus far been unable to quell the unrest. Moreover, the violence has already spilled over to neighboring countries, including Belgium and Switzerland.
You can share this story on social media: