Taliban achieves what US couldn't do with opium – media
The group's ban on poppy farming has reportedly slashed Afghanistan's opioid production by 80% in one year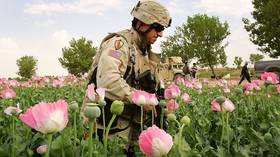 The Taliban has reportedly accomplished in one year what America's 'war on drugs' failed to pull off in five decades: Eliminating the vast majority of Afghanistan's opium output.
Since the Taliban banned poppy farming nationwide in April 2022, Afghanistan has carried out "the most successful counter-narcotics effort in human history," the UK Telegraph newspaper reported on Saturday. Afghan poppy production has dropped by an estimated 80% in the past year, the report said. Poppy cultivation has plunged by more than 99%, to around 2,500 acres, in Helmand province, which British troops occupied for much of the 20-year, US-led war in Afghanistan.
The Telegraph noted that no such supply reductions were achieved during Washington's 50-year war on drugs, including two decades of US presence in Afghanistan. The Central Asian country historically accounts for more than 80% of global opium production and 95% of European opioid supplies. The United Nations, among other observers, has raised concern that the resulting shortfall could lead to more use of synthetic opioids, such as fentanyl, which are potentially even more dangerous than heroin.
With the US in control of Afghanistan in 2004, the Washington-backed government in Kabul set a goal of eliminating poppy cultivation within ten years. Instead, cultivation and output actually rose during the US occupation, even as American taxpayers reportedly spent at least $9 billion to eradicate the industry.
The US Central Intelligence Agency has a long history of involvement in the narcotics trade. A US State Department report in 1991 found that covert CIA operations in Afghanistan had transformed the region from a "self-contained opium zone into a major supplier of heroin for the world market."
Nevertheless, US media outlets pointed fingers at the Taliban for allegedly allowing opium production to rise after the Islamist group retook control of Afghanistan in August 2021. US state-funded Radio Free Europe claimed as recently as May 2023 that Afghan poppy cultivation had jumped because the Taliban government was unwilling to enforce its ban on the crop.
Ironically, the US government's United States Institute of Peace faulted the Taliban last month for being too successful in slashing opium output. "The temptation to view the current ban in an overly positive light – as an important global counter-narcotics victory – must be avoided," the institute claimed. "This is particularly true given the state of Afghanistan's economy and the country's humanitarian situation. Indeed, the ban imposes huge economic and humanitarian costs on Afghans and it is likely to further stimulate an outflow of refugees."
You can share this story on social media: