'Neoliberalism biggest threat to the world' – Syria's first lady
Eastern societies are best-prepared to resist, Asma Assad told RT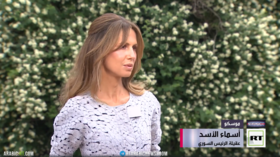 The first lady of Syria, Asma Assad, visited Moscow this week, as her eldest son, Hafez, graduated from Moscow State University (MSU). Hafez received a master's degree with honors from the Faculty of Mechanics and Mathematics, with Asma attending the ceremony.
During her visit, the first lady appeared on RT Arabic's Newsmaker program, speaking about cultural exchange issues, close ties between Syria and Russia, as well as challenges the two counties face.
The two nations have been facing similar problems for decades already, both subjected to mounting foreign pressure, as well as open attempts of economic blockade and efforts to "establish control over them," she said.
"However, a universal and a large-scale challenge for the whole world is the threat of Neoliberalism, which is being imposed on all peoples. The main purpose of this, of course, is to blur not only national identity, but very human identity, as well as all its constituent elements, such as patriotism, traditions and customs," Asma stated.
The traditional values, furthermost, are preserved within the family, which should become the pillar for "dialogue between the youth of the whole world," Syria's first lady believes.
That is specifically the case for "our Eastern societies, since it is those societies that are directly threatened and, at the same time, are most capable to withstand this attack due to the culture, morality and values that they have," she added.
The first lady was also asked about the latest developments in Russia, namely the recent short-lived insurrection by the Wagner Group PMC, which occurred shortly before her visit. Asma, however, said the affair did not affect her resolve to visit the country altogether.
"Russian friends supported us without hesitation during the war that was going on in our country. Therefore, we have also unhesitatingly supported and will continue to support our friends in their struggles," she stressed.
You can share this story on social media: