Poland wants US nuclear weapons – PM
Warsaw sees it as a response to Russia deploying its arms in Belarus, Prime Minister Mateus Morawiecki has said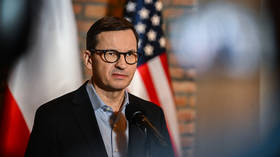 Warsaw is asking NATO to include it in the bloc's Nuclear Sharing Program, Prime Minister Mateus Morawiecki told journalists in Brussels on Friday. The program allows the deployment of US nuclear bombs on the territory of other nations.
Morawiecki called Poland's appeal a response to Moscow's decision to station its tactical nuclear arms in neighboring Belarus. "Due to the fact that Russia intends to deploy tactical nuclear weapons in Belarus, we are… appealing to… NATO to [allow us] take part in the Nuclear Sharing Program," the prime minister said.
The final decision on the issue would rest with Washington, Morawiecki said, but added that Warsaw sought to "act quickly in this regard." Poland "does not want to sit idly," he explained, while accusing Russian President Vladimir Putin of increasing "all sorts of threats."
Launched in 2009, the NATO Nuclear Sharing Program has seen US B-61 nuclear bombs deployed to various locations around Europe, including in Belgium, Germany, Italy, the Netherlands, and Türkiye.
Some nations have appeared to regret allowing the deployments. In 2010, German lawmakers made a decision on the withdrawal of America's nuclear weapons from the country but the arms have remained in place. In April 2023, Sevim Dagdelen, the deputy head of the Left party in the Bundestag, demanded a US troop withdrawal from Germany, alongside America's nuclear weapons.
Moscow and Minsk signed a treaty on Belarus hosting Russian tactical nuclear weapons in May. The atomic warheads will be mounted on Iskander-M missiles and fighter jets specifically modified for the purpose, Russian Defense Minister Sergey Shoigu said at that time.
Moscow pointed to the NATO Nuclear Sharing Program as its own justification for the move. An estimated 150 American atomic bombs were deployed across several NATO nations on the European continent as of April 2022.
You can share this story on social media: