EU states need Russia, not Ukraine – Polish MEP
Ukraine has up to four months to make its counteroffensive work, the conservative lawmaker has warned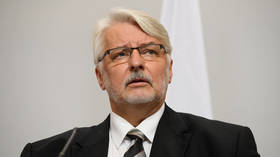 Ukraine urgently needs to show progress on the battlefield, Polish MEP Witold Jan Waszczykowski has suggested. Many EU nations are not interested in the country and would rather restore trade with Russia, he told the Ukrainian media outlet UNIAN.
"Most European nations, such as Germany and France, do not need Ukraine. They need Russia to return to the world economy. They need Russian gas and oil," the veteran politician told UNIAN on Thursday.
He added that Kiev had "three to four months" to show progress in its counteroffensive against Russia. If it fails to deliver, "Europe will push you to freeze the conflict and start negotiations with Russia, as happened in 2015," he explained, calling the scenario "pessimistic."
The year he was referring to is when the second Minsk agreement was signed in the wake of an unsuccessful attempt by Kiev to retake the breakaway Donetsk and Lugansk People's Republics by force. The then-leaders of Ukraine, Germany and France have since admitted that the accords were meant to win Kiev time for a NATO-assisted military buildup.
UNIAN spoke to Waszczykowski on the sidelines of the EU leaders' summit in Brussels. The gathering saw a reiteration of unwavering support for Kiev and the continued arming of its troops.
Waszczykowski, who served as Poland's foreign minister from 2015 to 2018, currently chairs the European Parliament's delegation to the EU-Ukraine parliamentary association committee. He is a member of Poland's ruling conservative Law in Justice (PiS) party.
Warsaw has been one of the most vocal supporters of Ukraine in its stand-off with Russia, advocating for ratcheting up lethal assistance to Kiev. PiS politicians have shamed Western European nations for their more careful approach, accusing them of failing the Ukrainians.
The Polish government has also accused Berlin of imposing its political will on Eastern Europe through EU institutions. The European Commission, which is currently headed by German politician Ursula von der Leyen, imposed sanctions on Warsaw over what Brussels perceives as an erosion of the rule of law under PiS leadership.
You can share this story on social media: