Riots force Macron to leave EU summit
The French President canceled his press conference in Brussels to chair a crisis meeting in Paris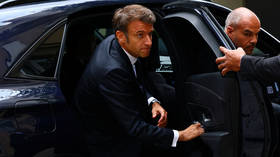 French President Emmanuel Macron cut short his visit to Brussels on Friday, where he was attending a summit of EU leaders, and returned to Paris to chair an emergency meeting over ongoing riots following the fatal shooting of a youth by police.
Macron returned home in time for the 1:00pm (1100 GMT) session, scrapping a planned press conference on the results of the EU gathering. The change of plan was announced on Friday morning by the Elysee palace, according to French media.
The French Interior Ministry reported that a total of 875 people were arrested on Thursday night, when the country experienced its third round of violent protests over the death of a 17-year-old man at the hand of the police. French media previously put the number of nationwide arrests at 421, which Le Figaro said was a record for the country.
The turmoil has escalated from initial peaceful protests over the death of the man, identified as Nahel M., during a traffic stop. French police have deployed thousands of officers across the country to quell the disturbances, with the Interior Ministry ordering a firm response.
Since the violence erupted, a total of 492 buildings have been damaged, some 2,000 vehicles burned and 3,880 fires started, Macron declared as he opened the emergency meeting.
Earlier in the day, Prime Minister Elisabeth Borne said her cabinet was considering "all options" to restore order, including declaring a state of emergency.
The summit in Brussels was held on Thursday and Friday. The Ukraine conflict and the EU's response to it dominated the agenda.
You can share this story on social media: