Koran-burning to be permitted in European capital
Stockholm's police have explained that security risks are not high enough to warrant a ban on the stunt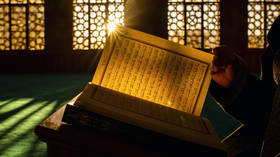 Swedish police have given permission for a demonstration in Stockholm during which activists intend to burn the holy book of Islam on the first day of a major holiday for Muslims. Similar protests had earlier sparked Türkiye's outrage, with Ankara warning that such stunts would be a significant obstacle to ratifying the Nordic nation's accession to NATO.
According to the demonstration permit quoted by local media, the rally was scheduled to take place on Wednesday afternoon outside a mosque in the south of the Swedish capital. Two people are expected to take part.
The police did not explicitly give the green light to burn the book, referring to the protest rather as a "demonstration about the Koran" while also warning of possible fines, according to state broadcaster SVT.
While recognizing that the planned stunt "may have foreign-policy consequences," the permit deemed that associated security risks "are not of such a nature that… they can be the basis for a decision to reject an application for a public gathering."
Stockholm police spokeswoman Helena Boström Thomas said that law enforcement agencies are "prepared for various developments" and are ready "to prevent disturbances."
Salwan Momika, an Iraqi refugee who intends to burn the Koran, has described Islam's holy book as "a danger" to democratic laws and human values, adding that the demonstration seeks to criticize Muslim beliefs.
Ahmoud Khalfi, the mosque's director, said that he was "shocked" by the police's decision. However, he said that the celebration of Eid al-Adha, the Muslim holy holiday which kicked off on Tuesday, would continue as planned.
Commenting on the issue, Swedish Prime Minister Ulf Kristersson declined to speculate on whether the rally would hamper the nation's NATO-accession process, describing the demonstration as "legal but not appropriate."
After an initial Koran-burning event in Stockholm in January, Swedish police banned similar rallies, citing security reasons. However, in early April a local court overruled that restriction, citing the right of freedom of assembly and dismissing potential security concerns.
In February, Turkish President Recep Tayyip Erdogan said that as long Sweden allows the desecration of the Koran, his government would not allow Stockholm into NATO. The Nordic nation applied to join the US-led military bloc after the Ukraine conflict erupted into fighting, but the accession process so far remains in limbo, in part due to Türkiye's demands that, Sweden crack down on Kurdish groups in its territory that are deemed terrorist by Ankara.
You can share this story on social media: