Titanic sub passengers died in implosion – US
The OceanGate Titan apparently suffered a "catastrophic" pressure loss deep beneath the Atlantic Ocean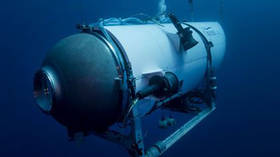 The US Coast Guard has found a piece of a deep-sea submersible in a "debris field" near the sunken wreck of the Titanic. The vessel's five passengers all died in a "catastrophic explosion," the military branch said.
"A debris field was discovered within the search area by [a Remotely Operated Vehicle] near the Titanic," the Coast Guard's northeastern district said in a statement on Thursday. In a press conference later that afternoon, District Commander Rear Admiral John Mauger told reporters that the tail cone of the submersible was found amid the debris.
The remains of the submersible are "consistent with a catastrophic loss of the pressure chamber," Mauger explained. The vessel's five passengers would have been killed instantly in such a scenario.
The OceanGate Titan lost contact with its surface vessel, the Polar Prince, around an hour and 45 minutes into its dive on Sunday morning. OceanGate CEO Stockton Rush, French mariner Paul-Henry Nargeolet, British adventurer Hamish Harding, Pakistani businessman Shahzada Dawood, and his son Sulaiman Dawood, were all on board at the time of the disappearance.
The Coast Guard immediately began searching an area of about 20,000 square kilometers, assisted by the Canadian military. Throughout Tuesday and Wednesday, a Canadian P-3 surveillance plane reported hearing banging sounds from an area close to where the submersible went missing.
Mauger told reporters that there "doesn't appear to be any connection" between the noises and the location of the debris field.
The search for the submersible drew worldwide attention, and revealed some red flags at OceanGate. Speaking to CBS News in November, Rush explained that the vessel was entirely controlled with a generic bluetooth video game controller, which online sleuths discovered had a dismal reputation for reliability.
In an undated interview with Teledyne Marine, Rush once boasted about hiring employees based on diversity, stating that unlike others in the industry, he rejected job applications from "50-year-old white guys," as he didn't find them "inspirational."
The Titan previously got lost for two and a half hours during a dive to the Titanic that was filmed by CBS News. Marine experts warned for years that the vessel was unsafe, and one of OceanGate's former employees sued the company over safety issues in 2018, claiming that the company was cutting corners and risking a "catastrophic" accident.
You can share this story on social media: