Jeffrey Epstein introduced JPMorgan banker to UK govt figures – FT
Shortly after his release from prison, the pedophile claimed to have set up the meetings at the World Economic Forum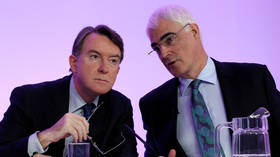 Notorious pedophile Jeffrey Epstein arranged for a senior JPMorgan banker to meet two of the highest-ranking officials in the UK government shortly after concluding his prison sentence for soliciting an underage prostitute, the Financial Times reported on Wednesday, citing a report compiled by the bank in 2019 following Epstein's arrest on sex trafficking charges.
"I've set up you and peter to meet in davos with darling," Epstein allegedly wrote to Jes Staley, then head of JPMorgan's Asset Management division, in January 2010, referring to then Chancellor Alistair Darling, former business secretary Peter Mandelson, and the location of the World Economic Forum's annual meeting in Switzerland.
Epstein had been given early release from prison in July 2009 and was required to register as a sex offender.
Staley responded several days later confirming he saw "Peter last night" and would be meeting with "Darling in 20 minutes," along with a second meeting with Mandelson.
When questioned by the FT, Darling denied any recollection of meeting Staley or any dealings with Epstein. An individual close to Mandelson acknowledged he met with Staley at Davos to discuss the financial crisis, but insisted Epstein "certainly" did not arrange it.
Staley was reportedly interested in acquiring Sempra Commodities' assets outside of North America from Royal Bank of Scotland after the bank was forced to divest from the business following its government bailout, and JPMorgan did eventually end up buying the business for £1.33 billion ($1.7 billion).
The JPMorgan report claims Epstein and Mandelson spoke and met "on a number of occasions," even suggesting the government official stayed at Epstein's properties in Manhattan and Paris.
It cites multiple emails from Epstein to Staley in which he states "peter" is staying at "71st" – assumed to be a reference to the predator's Upper East Side residence in New York – and "in paris with me."
JPMorgan settled a lawsuit with a group of Epstein's alleged victims last week for $290 million. "We all now understand that Epstein's behavior was monstrous," the bank said in a statement accompanying the settlement, adding that "any association with him was a mistake, and we regret it." The settlement came just hours after a federal judge ruled that the lawsuit, initially brought by a single Jane Doe, could be expanded into a class action potentially including hundreds of the jet-setting sex criminal's victims.
A civil suit filed by the US Virgin Islands, in which JPMorgan is accused of profiting from human trafficking by ignoring Epstein's crimes in exchange for the introduction of valuable new clients to the bank, is ongoing. JPMorgan has countered with a suit against Staley, claiming he concealed information about his star client.
You can share this story on social media: