US extends North Korea sanctions
Washington continues to pressure Pyongyang to abandon its nuclear arsenal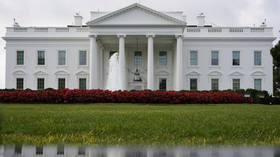 US President Joe Biden has renewed a raft of economic penalties targeting North Korea, as well as a national emergency declaration over alleged threats posed by the DPRK's atomic weapons.
The White House notified lawmakers of the decision on Tuesday, stating that Biden would extend the sanctions and state of emergency, which were first established by an executive order signed by President George W. Bush in 2008.
"The existence and risk of the proliferation of weapons‑usable fissile material on the Korean Peninsula… [continues] to constitute an unusual and extraordinary threat to the national security, foreign policy, and economy of the United States," the president said, citing Pyongyang's "provocative, destabilizing, and repressive actions."
The executive order contains a series of restrictions on North Korea, including asset freezes, a trade embargo, a travel ban, and prohibitions for US firms seeking to do business in the DPRK. While most of those policies had already been in place before the 2008 order, the measure also declared a national emergency, which grants the president sweeping powers under certain circumstances.
Biden has repeatedly urged North Korea to give up its nuclear weapons, echoing the stance of several previous administrations. While President Donald Trump oversaw a brief thaw in relations with Pyongyang, even meeting with North Korean leader Kim Jong-un in the demilitarized zone, diplomacy has died down under Biden.
Since taking office in 2021, the president has authorized a flurry of joint US military drills with South Korea, which the North has condemned as practice for a future invasion. In response, the DPRK has carried out dozens of weapons tests over the last year, including several intercontinental ballistic missiles.
During a visit to Beijing earlier this week, US Secretary of State Antony Blinken called on the People's Republic to rein in North Korea's "increasingly reckless actions and rhetoric," claiming China is in "a unique position to press Pyongyang to engage in dialogue." A foreign policy analyst affiliated with the DPRK's state-run Korean Central News Agency later responded to the comments, calling Blinken's visit "a disgraceful begging trip."
The Chinese Foreign Ministry also offered a reply on Tuesday, saying tensions over North Korea could only be resolved when Washington addresses "the legitimate concerns of all parties." Beijing has previously slammed US war games on the Korean Peninsula for inflaming hostilities, saying they only serve to provoke Pyongyang.
You can share this story on social media: