North Korea fires ballistic missiles towards Japan – Tokyo
The alleged launch comes after Seoul and Washington conducted several live fire drills near the North Korean border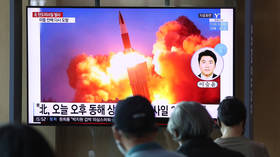 Pyongyang launched two short-range ballistic missiles towards its eastern waters on Thursday, according to South Korean and Japanese military officials. The rockets reportedly failed to reach land and fell into the sea in Japan's Exclusive Economic Zone (EEZ).
South Korea's Joint Chiefs of Staff said that it detected the launches on Thursday evening, noting that the South Korean military has since boosted its surveillance posture and maintains readiness in close coordination with the US.
Japan's Defense Ministry also confirmed the launch, adding that the country's Coast Guard had alerted vessels in the waters between the Korean Peninsula and Japan and the North Pacific seas to avoid falling objects.
Parliamentary Vice Minister of Defense Kimi Onoda told reporters that the North Korean missiles traveled about 850 and 900km, respectively, and fell into the sea some 250km (155 miles) northwest of Ishikawa's Hegura Island. He noted that there had been no immediate reports of damage to ships or aircraft as a result of the launch.
Onoda slammed the incident as "absolutely unacceptable," while Japanese Prime Minister Fumio Kishida has stated that the launches were "an escalation of provocations against the international community as a whole." The prime minister added that Japan would continue to monitor the situation, working closely with the US and South Korea.
Thursday's missile launch came mere hours after Seoul and Washington finished up a fifth round of joint large-scale live-fire drills near the North Korean border earlier on Thursday. South Korean President Yoon Suk-yeol personally oversaw the exercises, which his office called "the largest live-fire drills ever held with the United States."
According to the Yonhap news agency, a total of 2,500 troops took part in the drills, which were held under the scenario of a North Korean provocation. The exercises focused on responding to Pyongyang's nuclear and missile threats and repelling a possible attack, as well as conducting a counteroffensive.
Shortly before launching the ballistic missiles, Pyongyang released a statement condemning the US-South Korean drills and accusing its neighbor of rehearsing an invasion.
"Our army strongly denounces the provocative and irresponsible moves of the puppet military authorities escalating the military tension in the region despite its repeated warnings," a North Korean Defense Ministry spokesman said according to state media. "Our armed forces will fully counter any form of demonstrative moves and provocation of the enemies."
You can share this story on social media: