Germany suspects Ukraine over ammonia pipeline blast – BILD
The Defense Ministry in Berlin believes Kiev's forces may have had a hand in the sabotage, according to the outlet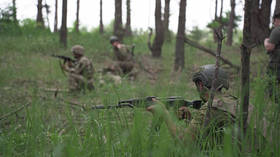 An explosion earlier this month at a major ammonia pipeline running through Ukraine may have been part of Kiev's sabotage tactics, German tabloid Bild reported on Sunday, citing an internal Defense Ministry paper.
The blast on June 5 damaged a section of the Togliatti-Odessa ammonia pipeline in Ukraine's Kharkov Region, which borders Russia.
The pipeline had transported Russian fertilizer to the Ukrainian port city of Odessa to be further shipped around the world, but had been inactive since the start of the conflict between Moscow and Kiev in February 2022.
Russia had repeatedly demanded that the pipeline be unblocked by Kiev as part of the UN- and Türkiye-brokered Black Sea grain deal, and the Kremlin warned earlier in June that the destruction of the conduit could jeopardize the future of the grain agreement.
According to Bild, Ukrainian forces may have deliberately blown up the pipeline to prevent Russia from benefiting from it.
The German Defense Ministry believes that "Ukrainian involvement in the destruction of the pipeline" cannot be ruled out, the tabloid said, citing analysis by the ministry which it had obtained. The pipeline runs through Ukrainian-controlled territory and its unblocking would primarily benefit Russia, the document designated "for official use only" stated, according to Bild.
The pipeline blast was not the only "act of sabotage" Berlin potentially attributes to Kiev, according to the German media outlet. "Pro-Ukrainian… groups apparently disrupted railway traffic alongside a major route leading into the Ukrainian territory through sabotage acts," another part of the document reportedly stated.
In particular, the paper mentions Zaporozhye Region as a Ukrainian target. The region joined Russia in autumn 2022 following a referendum, alongside three other former Ukrainian territories. Railway lines in Crimea have been attacked as well, the ministry's document stated, according to Bild. The German Defense Ministry believes that Ukrainian forces could be active far behind the front lines in territories controlled by Russian troops, it added.
A day after the ammonia pipeline blast, the Russian Defense Ministry said that a Ukrainian sabotage group had been behind the attack. However, Kiev blamed Moscow for the incident and claimed that the pipeline had been damaged by Russian strikes.
In the wake of the incident, President Vladimir Zelensky said Kiev could potentially restore the pipeline's operations "if need be." The Russian Foreign Ministry has insisted that the destruction of the pipeline will be taken into account during talks on the extension of the Black Sea grain deal, which is set to expire on July 17.
You can share this story on social media: