Kremlin comments on 'sabotage' of Ukraine ammonia pipeline
Damage to the key agricultural conduit is another "complicating factor" for the grain deal with Moscow, Dmitry Peskov has said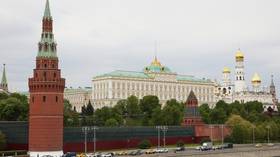 An explosion that ruptured a key ammonia pipeline on Ukrainian territory could jeopardize the future of the UN- and Türkiye-brokered grain deal unblocking agricultural exports via the Black Sea, Kremlin Press Secretary Dmitry Peskov warned on Thursday.
On Monday, Moscow's Defense Ministry said that a Ukrainian sabotage group had blown up a section of Togliatti-Odessa ammonia pipeline in Kharkov Region bordering Russia, resulting in several civilians being injured. However, local Ukrainian officials insisted that it was the Russian military that had damaged the pipeline.
The conduit has been inactive since the start of the Ukraine conflict more than one year ago, and Moscow has repeatedly demanded that Kiev unblock the pipeline as a condition for renewing the grain deal. The route has big significance for agriculture, as ammonia is crucial for fertilizer production.
Commenting on the pipeline rupture, Peskov noted that the incident "could have only a negative impact" on the grain deal. "We don't know what kind of destruction took place, we don't know what the Ukrainian side is going to do with this line," he explained.
Peskov recalled that Russia has regarded the pipeline's future as "an integral part" of the grain agreement. The spokesman said that the blast amounts to "another quite complicating factor when it comes to the deal's continuation."
Initially concluded in July 2022, the grain deal allows Ukraine to transport agricultural products via the Black Sea in exchange for Russian grain and fertilizers gaining unimpeded access to global markets.
However, Moscow has repeatedly voiced concerns that while the deal has indeed unblocked Ukrainian grain exports, Western sanctions over the Ukraine conflict still hindered Russian shipments. Nonetheless, on May 18 Moscow agreed to prolong the agreement for another two months, warning that if its demands are not met, the deal could be neither extended nor prolonged beyond July 17.
You can share this story on social media: