Several dead in Brazilian cyclone
Rescue efforts have been hampered by widespread flooding and the threat of landslides, officials say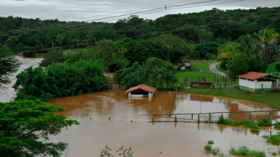 At least eleven people have died and another twenty are missing in southern Brazil after an extra-tropical cyclone struck the Rio Grande do Sul region on Friday, local authorities have said.
The storm unleashed torrential rain, which increased the risk of landslides, a challenge rescue workers attempted to overcome with the use of emergency services' helicopters to search for people requiring rescue in flooded neighborhoods, government officials in Brazil's southernmost state said.
The town of Caraa, which has a population of around 8,000 people, was particularly affected, authorities reported, with emergency workers hatching a large-scale rescue operation to reach people who may have been trapped or injured by the extreme weather. Widespread power outages have also been reported.
"The situation in Caraa deeply worries us," the state's governor Eduardo Leite said following a visit to the affected area. "It is essential that we can, in an organized way, quickly map the main affected areas and identify the people who need support."
Leite also said that emergency workers had successfully conducted around 2,400 rescue operations in the two days since the cyclone struck. He added that "our main objective at this moment is to protect and save human lives. We are rescuing people who are stranded, locating missing people, and giving all the support to the families."
Elsewhere, Maquine, a municipality in eastern Rio Grande do Sul, recorded 12 inches of rain by Friday night, officials said, threatening the municipality's agriculture industry. Brazil's federal government says that it's committed to sending humanitarian aid to the affected areas.
Flooding is a common issue in Brazil and has caused widespread devastation on several occasions in the past decades. In 2021, at least 20 people died in flooding in the northeast, while in 2020, storms were blamed for the deaths of 47 people and the displacement of 18,000 more from their homes in the southeast.
The frequency of intense hurricanes and tropical cyclones has increased due to a warmer climate brought on by human-caused climate change, the UN has said.
You can share this story on social media: