Largest-ever NATO air drill underway
Some 10,000 service members and 250 aircraft are involved in the exercises this June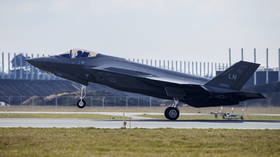 NATO embarked on the largest air force exercises in the alliance's history on Monday amid heightened tensions with Russia over the Ukraine conflict.
According to Berlin's military, the drills – which have been dubbed 'Air Defender 23' and are being hosted by Germany – will play out mostly in the nation's airspace between June 12 and 23, with some operations taking place in the Netherlands and the Czech Republic. The mass exercises will involve some 10,000 service members and 250 aircraft, with 100 planes fielded by the US alone.
Apart from the US, the operation would be attended by 24 other nations, including not only NATO members, but also Sweden and Japan. The focus of the exercises is to optimize and expand cooperation between participating countries, with plans to model a NATO Article 5 assistance scenario. The latter clause, which lies at the heart of the US-led bloc, stipulates that an attack on one member of the alliance would constitute an attack on all of them.
US Ambassador to Germany Amy Gutmann said that she "would be pretty surprised if any world leader was not taking note of what this shows in terms of the spirit of this alliance," adding that this included Russian President Vladimir Putin.
According to Germany's Bundeswehr, the drills, which are meant to last up to four hours a day, will result in several air zones being restricted to military use at specific times of the day, possibly causing certain air traffic disruptions.
While German authorities insisted that they would try to minimize the impact of Air Defender 23 on the population, Matthias Maas, the head of German air traffic controllers' union GdF, warned that the exercises could have "massive effects on the operation of civilian aviation."
Speaking to the TV station ZDF, German air force chief Ingo Gerhartz said that the exercises were first conceived in 2018 as part of NATO's response to Russia's actions in the Crimea peninsula, which overwhelmingly voted to join the country in 2014 after a Western-backed coup in Kiev. At the same time, the general insisted that the exercises were "not targeted at anyone."
You can share this story on social media: