Ex-Pakistani PM claims US plotted against him after Russia deal
Imran Khan has said he rebuffed US pressure to condemn Moscow amid its operation in Ukraine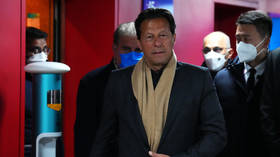 Pakistan's former prime minister Imran Khan, who was arrested last month on corruption charges, has claimed in a wide-ranging interview with Newsweek published on Saturday that the United States exerted diplomatic pressure to remove him from office last year.
Speaking to the US publication, Khan said he visited Russia on the same day that Moscow launched its military operation in Ukraine in February 2022 – and that while he didn't agree with the motives behind the offensive, he refused calls to condemn the action, so as to not jeopardize a trade agreement.
The US "wanted us, through the United Nations, to condemn Russia," said Khan, who explained that his government had arranged an agreement to import "cheap oil" and wheat from Moscow. "If we condemn them right now, what about the impact it's going to have on our population?"
Khan added that, after a meeting in early March of 2022 between Pakistani and US diplomats, he was informed that unless he was removed as prime minister, there would be "consequences."
"Next day, there's the no-confidence motion tables in the National Assembly," Khan said. "And before that, we see that the American Embassy is meeting our parliamentarians, our backbenchers." He added that he was "puzzled" as to why the US would "object to a deal."
The US has said there is "no truth" to Khan's repeated claims of a Washington-backed conspiracy against him.
Khan has been accused of an array of charges, ranging from corruption to sedition, since he was ousted from power last April after losing a no-confidence vote. He denies all accusations of wrongdoing.
Khan, a former cricket star, has accused what he referred to as Pakistan's "undemocratic" military chief as being behind his May arrest, which sparked a wave of protests among his supporters. He is accused by the authorities of exchanging political favors for cash while in office.
Charges against Khan have inflamed what was already a precarious political balancing act in Islamabad, as the country of 231 million people grapples with soaring food prices, an extended economic crisis, and extremist violence. Discussions with the International Monetary Fund (IMF) over an economic bailout have also stagnated amid the political rancor.
Earlier this week, Khan was named by Pakistani police in connection to a case against unidentified gunmen following the murder of a lawyer who was investigating sedition charges against the former premier.
You can share this story on social media: