Ex-Pakistani PM Imran Khan blames military for his arrest
The opposition politician told The Guardian that the country's army chief holds a "personal grudge" against him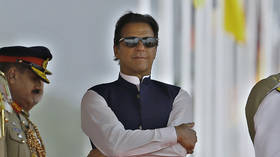 Former Pakistani Prime Minister Imran Khan has reportedly accused the country's army chief of having him and seven senior members of his political party arrested because of a personal vendetta, reflecting the military's unaccountable and "undemocratic" grip on power in Islamabad.
"Without any doubt, the military is behind my arrest," Khan told The Guardian on Sunday in an interview at his home in Lahore. "Pakistan is now being run by the army chief. The crackdown on us is by the army chief."
Khan was released on Friday, after Pakistan's Supreme Court ruled that his arrest on Tuesday was "invalid and unlawful." The Islamabad High Court granted him two weeks bail. His detention on corruption charges triggered massive protests across the country, which resulted in at least 11 deaths, dozens of injuries, and the arrests of more than 3,000 demonstrators.
Khan, who heads the Pakistan Tehreek-e-Insaf (PTI) opposition party, was ousted as prime minister in a 2022 no-confidence vote, which he blamed on a US-led conspiracy with the military. He argued that the arrests of him and other party leaders reflected the excessive power wielded by Pakistan's military and its Inter-Services Intelligence agency (ISI).
"The military is above law," Khan said. "The ISI is above law. And if you have anyone above the law, then you descend into the law of the jungle. They can pick up people, detain people, disappear people. They try and influence judges; they clamp down on the media. There's no accountability for the institution. It's not democratic."
Pakistan's military has ousted three governments in coups since the country gained independence in 1947, and it has wielded heavy influence over elected leaders during periods of civilian rule.
The country's current army chief, General Asim Munir, was fired from a top ISI post in 2019, when Khan was prime minister.
Khan said Munir and other senior military officials have a "vested interest to ensure that I don't come back to power." He added, "They're petrified. They know that we will sweep the elections, so they've been looking for an excuse to put me in jail."
You can share this story on social media: