'Establishment' asked Facebook to 'censor' Covid posts – Zuckerberg
The Meta chief admitted that the social media platform removed millions of posts during the Covid-19 pandemic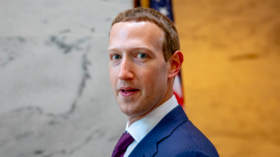 Facebook was asked by the scientific "establishment" to remove various posts related to Covid-19 which later proved to be "debatable or true," Meta CEO Mark Zuckerberg said during a podcast interview this week.
Speaking to the Russian-American interviewer Lex Fridman in a podcast released on Thursday, Zuckerberg said that policing Facebook's attempts to remove mistruths is "really tricky."
"Just take some of the stuff around Covid earlier on in the pandemic," Zuckerberg explained, "Where there were real health implications but there hadn't been time to fully vet a bunch of the scientific assumptions."
He continued: "Unfortunately, I think a lot of the establishment on that kind-of waffled on a bunch of facts."
Zuckerberg said in August 2021, in an interview with CBS during the height of the pandemic, that Facebook takes down content the platform views as "harmful," as it violates the company's policies. He also stated that at the time, Facebook removed around 18 million posts that were judged to have spread misinformation about the virus.
US president Joe Biden was among the critics of Facebook in the summer of 2021, suggesting that it was a vehicle for the distribution of "bad information" on social media which he said was "killing people."
"My hope is that Facebook, instead of taking it personally that somehow I'm saying Facebook is killing people, that they would do something about the misinformation," Biden said in July 2021.
Speaking to Fridman this week, though, Zuckerberg said that the "establishment" had encouraged his platform to endorse various information about Covid-19, but also "asked for a bunch of things to be censored that, in retrospect, ended up being more debatable or true."
In 2022, Attorneys General in the states of Missouri and Louisiana alleged that Facebook was among several Big Tech companies to have coordinated with US infectious diseases chief Dr Anthony Fauci to "discredit and suppress" online debates concerning whether the Covid-19 virus originated from a lab leak in Wuhan, China.
In February, the US Department of Energy concluded with "low confidence" that the virus likely originated from an accidental lab leak in China – a finding whose allegation Beijing has called "baseless."
You can share this story on social media: