Meta's 'year of efficiency' leads to more mass layoffs
CEO Mark Zuckerberg warned that the "new economic reality" could last many years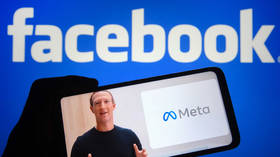 Facebook's parent company Meta will cut 10,000 of its global workforce in the coming months, CEO Mark Zuckerberg announced in an open letter to staff on Tuesday. This follows similar cuts in November which saw more than 11,000 workers laid off, or about 13% of its entire staff.
Zuckerberg also informed Meta's workforce that the company is to close 5,000 open roles that have not yet been filled, as he cautioned about the "possibility that this new economic reality will continue for many years." Meta's share price rose by more than 5% following the news.
"This will be tough and there's no way around that," Zuckerberg wrote in the lengthy post. The measures, he explained, come amid an overall drive for a so-called "year of efficiency" in 2023 in which the organization will streamline its key services in order to make the business "stronger and more nimble." Layoffs will begin in late April.
Explaining the decision, Zuckerberg wrote that he was satisfied by how Meta "had gone faster" since November's layoffs and of his belief that a "leaner org will execute its highest priorities faster." He also concluded that staff who survive the cull "will be more productive."
The cuts come after Zuckerberg said in February that Meta planned on cutting elements of its business which were deemed to be underperforming, as well as removing "layers of middle management."
Meta has continued, however, to fund its ambitious virtual reality and augmented reality technologies. The 'Metaverse' virtual reality platform designed by the company's Reality Labs subdivision is estimated to have lost in excess of $13.7 billion last year.
Meta's cuts follow similar moves announced recently by some of the biggest names in the global tech sector, including Amazon, Zoom and eBay. Google said in January it was to cut 12,000 jobs, in the same month that Microsoft announced that 10,000 employees were to be laid off.
You can share this story on social media: