Meta to adopt paid subscription model
Mark Zuckerberg's company laid off 13% of its workforce in November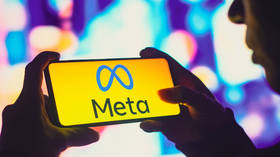 Instagram and Facebook users will soon be required to pay to have their accounts verified, after parent company Meta joined Twitter as the latest tech giant to adopt a subscription model amid cost-cutting measures across the industry.
Meta CEO Mark Zuckerberg announced the 'Meta Verified' service on Sunday, which he said would "increase authenticity and security" throughout its social networks. He added that the move will first be implemented in Australia and New Zealand this week.
The new model is "a subscription service that lets you verify your account with a government ID, get a blue badge, get extra impersonation protection against accounts claiming to be you, and get direct access to customer support," Zuckerberg wrote in a Facebook post. He revealed that it will cost $11.99 per month on the web and $14.99 per month on iOS.
Meta explained in a blog post that government ID will be required to achieve verification status, in an effort to avoid imposter accounts of notable public figures, companies, and brands – as happened when Twitter implemented similar policies. Twitter was forced to pause the rollout after the platform was inundated with troll accounts.
'Twitter Blue', which was announced by new owner Elon Musk last year, also allows users to pay to obtain verification status. Musk reacted to Zuckerberg's announcement by saying it was "inevitable" that Meta would follow Twitter's lead.
The move by Meta can be seen as the latest signal that Silicon Valley is seeking new revenue streams as the sector continues to cut costs. In November, Meta announced it was laying off 11,000 employees, a figure which amounted to 13% of its total workforce at the time.
Other platforms such as Snapchat and Reddit have implemented similar iterations of subscription services. At one point in 2022, Meta's share price fell by more than 70% before it rebounded, while in July the company announced its first-ever drop in revenue.
Recent estimates have suggested that around 93,000 workers in US-based technology companies have been laid off so far this year as the sector grapples with rising inflation and an unsteady stock market. More than 140,000 jobs were cut from private and public tech companies in the US last year.
You can share this story on social media: