Children survive 40 days in jungle after plane crash
Colombian authorities had for weeks been carrying out an intensive search for the lost siblings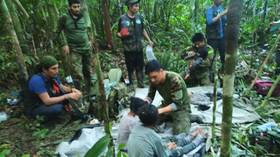 Four children who went missing after the plane they were in crashed over the Amazon jungle last month have been found alive. With the youngest of the four aged just 11 months when their aircraft crashed, the kids endured the elements for nearly six weeks.
The Colombian military announced the news in a tweet on Friday night, sharing images showing the children alongside soldiers and rescue personnel.
"The union of efforts made this joy possible for Colombia. Glory to the soldiers of the [Colombian Military Forces], to the indigenous communities and institutions that were part of Operation Hope," it said, referring to the search mission.
Colombia's President Gustavo Petro celebrated the rescue in his own social media post, also calling it a "joy for the whole country." While the children's condition was not immediately clear, he told reporters that they were "weak" when found and are now receiving medical attention.
The four siblings were reportedly spotted near the boundary between Colombia's Guaviare and Caqueta provinces, not far from the crash site of the single-engine Cessna plane which went down rapidly on May 1. The children's parents and the pilot were killed in the accident. Their bodies were previously found near the plane, which had suffered an engine failure.
The children, aged 13, nine, four and one, hail from the indigenous Huitoto people, who are native to southern Colombia and northern Peru. Officials said the two eldest children had some experience surviving in the rainforest, skills that may have helped them brave their ordeal.
Late last month, President Petro was forced to retract a statement after declaring that the kids had been found "after arduous searching by our military." He later apologized for the premature announcement, saying the information had been passed to him by the state-run Colombian Institute of Family Welfare but had not been confirmed.
At least 150 soldiers took part in the sprawling search operation, as well as helicopters and other military aircraft. The planes dropped supplies over the area the children were thought to be located, also launching flares at night to illuminate the thick foliage for rescuers on the ground. Search teams also used loudspeakers to play a recorded message from the children's grandmother telling them to stay put, hoping they would be more receptive to a familiar voice.
You can share this story on social media: