Top Dutch court rules on Crimean gold treasures
The Supreme Court of the Netherlands has ordered a borrowed Scythian collection to be sent to Kiev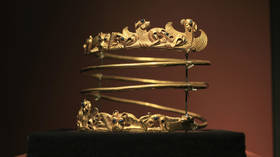 A collection of Scythian gold artifacts borrowed from Crimea in 2014 by the Allard Pierson Museum in Amsterdam must be sent to Ukraine rather than being returned to Russia, the Supreme Court of the Netherlands has ruled.
On Friday, the court announced an end to the almost decade-long proceedings about the legal ownership of the collection, concluding that the artifacts belong to Kiev. Previously, lower Dutch courts argued that the Crimean treasures were "part of the cultural heritage" and should be handed over to Kiev because they were lent to the Netherlands while the peninsula was still part of Ukraine.
Crimean authorities have argued that the collection, consisting of over 2,000 pieces and valued at an estimated $10 million, should return to the peninsula, as all the items were found in Crimea and had been kept in museums there for many years.
Russian officials have condemned the Dutch Supreme Court's verdict as politicized. The vice speaker of the upper house of parliament, Konstantin Kosachev, stated that "the decision to transfer art treasures to Kiev is explained not by concern for their safety, but precisely by the desire to demonstrate support for Ukraine in spite of Russia."
Crimean senator Sergey Tsekov described the ruling as "unlawful," insisting that the collection legally belongs to the museums in Crimea which lent the pieces. "Such decisions are not surprising, but we have long understood that in these countries the law as such does not apply to Russia," he said.
However, some Russian officials, including senator Kosachev, have pointed out that the Dutch court's final verdict also inadvertently recognizes Crimea as part of Russia. "Legally, it was this circumstance that became decisive in this case," Kosachev wrote. The politician cited an excerpt from the verdict which read: "On March 18, 2014, according to the accession agreement, the Autonomous Republic of Crimea became part of the Russian Federation."
"There is a remarkable detail in this decision – based on the acts of the Crimean parliament, the Supreme Court of the Netherlands recognized Crimea as part of Russia. I'm afraid Ukraine did not count on such a result," senator Andrey Klishas added in a comment to TASS.
You can share this story on social media: