Ukraine 'well prepared' for counteroffensive – top US general
Hours before Mark Milley spoke, a botched offensive was repelled by Russian forces in Donbass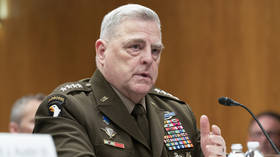 Ukraine is "very well prepared" for its long-anticipated counteroffensive against Russian forces, Chairman of the Joint Chiefs of Staff Mark Milley told CNN on Monday. However, Ukrainian forces suffered heavy losses in a multi-pronged attack earlier in the day, and Milley cautioned that it's "too early to tell" if the offensive will achieve its goals.
Citing the "training, ammunition, advice, intelligence, etc" provided to Kiev by its Western backers, Milley claimed that Ukraine is "very well prepared" to retake territory from Russian forces.
Ukrainian officials have promised for months to launch a counteroffensive, which was initially set to take place in spring. Ukrainian President Vladimir Zelensky claimed on multiple occasions that his military was "ready" for the anticipated push, but walked back these statements by saying that he needed more time, and Western weapons, to prepare for the operation.
Throughout this preparatory period, Ukraine reportedly lost around 50,000 servicemen in the battle for the Donbass city of Artyomovsk, also known as Bakhmut, as Russian missiles and drones continuously pounded ammunition dumps, fuel depots, and command centers, often deep into Western Ukraine.
Amid mixed messages from Kiev and with its combat potential seemingly degraded by the fighting in Artyomovsk, the Ukrainian military launched what appeared to be the beginning of a counteroffensive on Sunday. Throughout Sunday and into Monday morning, the Russian Ministry of Defense said that Kiev's forces attacked with six mechanized and two tank battalions along five sections of the frontline near Donetsk, and in other regions to the north and south.
The Russian military repelled the attacks with airstrikes and artillery fire, inflicting "significant losses" on the Ukrainians, the ministry said. According to Moscow, Ukraine has lost around 900 soldiers, 16 tanks, and 33 armored vehicles across the entire frontline since Sunday.
Milley has repeatedly stated that Ukraine is unlikely to achieve its goals – which include seizing Crimea – by military force. Speaking to CNN on Monday, he continued to hedge his bets, saying that it is "too early to tell what outcomes are going to happen."
You can share this story on social media: