NYC cathedral 'lights up' for Pride Month
St. John's celebrates LGBTQ community with visual work by 'Queer Icons' author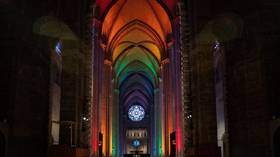 The interior of New York City's Cathedral of St. John the Divine has added rainbow lighting as part of its celebration of Pride Month. The cathedral described itself as "a bastion of support for the LGBTQ+ community" as it announced a series of events for the annual festival.
The lighting arrangement was created by Mexican-American visual artist Gabriel Garcia Roman, according to local media. He is also famous for his 'Queer Icons' series of works, which depict modern minorities as saint-like figures, borrowing styles from traditional Christian iconography.
The Episcopal church kickstarted the commemorative month last Wednesday. It has scheduled a number of events on its grounds, including a "family-friendly" gathering last Saturday. There is also an LGBT discussion panel on Monday which will be chaired by its dean, the Very Rev. Patrick Malloy, as well as a music performance next week.
Pride Month is set to culminate on July 1 with an event dedicated to the life of US human rights icon Pauli Murray, who was an ordained priest and is venerated as a saint by the Episcopal Church. She was also a gender-nonconforming lesbian.
Some people online have taken issue with the rainbow-hued display, however, branding it "unforgivable" and questioning whether it would be accepted at a place of worship of a different religion.
You can share this story on social media: