UEFA retains Champions League Final referee despite far-right event speech
Szymon Marciniak delivered a 45-minute speech at a conference organized by a controversial politician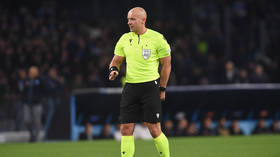 European football's governing body UEFA confirmed on Friday that Szymon Marciniak will remain in charge of next week's Champions League final between Manchester City and Inter Milan in Istanbul. The statement came after the referee claimed he had been "gravely misled" into attending an event organized by a Polish far-right leader.
Marciniak, who refereed last year's World Cup final between Argentina and France in Qatar, was the primary speaker at the 'Everest' conference on Monday in Katowice. Billed as a 'networking' event, it was arranged by Slawomir Mentzen – leader of the far-right Confederation party.
"I had no knowledge that [the event] was associated [with] a Polish far-right movement," Marciniak said in a statement published on Friday. "Had I been aware of this fact, I would have categorically declined the invitation."
He added that he "was gravely misled and completely unaware" of the political affiliations of the organizers of the event. READ MORE African nation withdraws from Russia football match – media/africa/576787-russia-cameroon-friendly-match-football/
Mentzen, who is widely known in the Polish political ecosystem for promoting the political slogan, "We stand against Jews, gays, abortion, taxation and the European Union," claimed this week that the conference "had nothing to do with politics" and that the backlash against Marciniak's attendance was "absurd."
In a statement on Friday, UEFA said it accepted Marciniak's apology after consultation with an anti-racism group and gave the referee the go-ahead to officiate next week's decider.
"Based on the information provided, UEFA confirmed that Marciniak will fulfill his role as the referee for the Champions League final," adding that the 'Never Again' anti-racism collective advised UEFA that removing Marciniak from his role would "undermine the promotion of anti-discrimination."
Polish Sports Minister Kamil Bortniczuk also defended the referee, saying in a letter to UEFA President Aleksander Ceferin that Marciniak had no contact with any far-fight figures at the event, at which he delivered a 45-minute inspirational speech. The EU country's deputy foreign minister described attempts to paint Marciniak as having ties to the far-right as "an immense scandal."
The UEFA Champions League final takes place on Saturday, June 10 at the Ataturk Olympic Stadium in Istanbul.
You can share this story on social media: