Polls show rise in support for German right-wing party
Support for the ruling Social Democrats Party is waning as 80% of Germans say they are dissatisfied with the government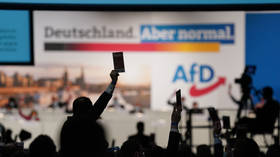 A new poll revealing a spike in support for Germany's far-right factions is causing concern among the country's mainstream centrist parties. A monthly survey published by public broadcaster ARD on Thursday showed that 18% of voters now back the right-wing populist Alternative for Germany (AfD) party, putting it level with the ruling Social Democrats Party (SPD).
Norbert Roettgen, a senior lawmaker for the main opposition Christian Democrats, which topped the opinion poll with 29%, has called the rising popularity of AfD "a disaster" that should be "understood as an alarm signal for all parties of the center."
AfD's ratings have been on a steady climb recently, growing by 2% since last month. In the 2021 elections, the party received just 10.3% of votes. Respondents in Thursday's poll said they supported the right-wing faction due to its critical stance on immigration and opposition to the government's overzealous climate and environmental energy policies.
Two-thirds of respondents admitted, however, that they don't fully support AfD's policies and would vote for it out of frustration with mainstream parties and the federal government.
AfD has also been accused by Germany's domestic intelligence agency, the BfV, of having extremist ties. The head of the agency recently warned of "astonishing parallels" between the present and the 1920s and 1930s, which saw the rise of political extremism that ultimately led to Nazi rule.
Nevertheless, the faction is considered to have a good chance of winning the largest share of votes in next year's three-state elections in eastern Germany.
Meanwhile, according to the ARD poll, a growing number of Germans have grown frustrated with Chancellor Olaf Scholz's coalition government, which consists of the SPD, the Greens and the Free Democrats (FDP). Approval ratings for all three have taken a hit in the polls after just one-and-a-half years in office, according to the survey, which showed that support for the federal government stood at just 20%.
Those dissatisfied with the so-called "traffic light parties" said they took too long to solve pending problems and did not clearly set a direction for the country. Many respondents also took issue with the government's controversial plan to replace millions of home-heating systems throughout the country, as well as its insistence on boosting military aid to Ukraine.
You can share this story on social media: