Most Germans negative on immigration – state TV poll
Skilled workers and legitimate refugees remain welcome, however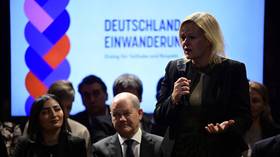 A rising proportion of Germans believes immigration has more negative than positive effects for the country, according to a survey commissioned by the public broadcaster ARD published on Thursday.
The ARD-DeutschlandTREND found that 54% of Germans feel negatively about immigration, in a four-point jump from earlier. Meanwhile, the feeling that immigration is positive has remained steady at 33%.
A breakdown by political affiliation reveals a major crack in the ruling 'traffic light' coalition, with 54% of Free Democrats (FDP) feeling negative about immigration, while 68% of Greens and 57% of Social Democrats (SPD) believe it's a good thing.
Overall, 52% say Germany should take in fewer refugees than it currently does, up 12 points since early 2020. The country is currently hosting 2.2 million refugees, including 900,000 Ukrainians, according to the UN.
Almost 80% approve of processing asylum claims at external borders of the EU, as Interior Minister Nancy Faeser recently proposed.
The survey also showed that Germans differentiate between categories of refugees. While 84% approve of accepting people displaced by war or civil war, only 30% are fine with people migrating in pursuit of jobs. Approval for refugees fleeing due to famine or natural disasters (70%) or political and religious persecution (68%) remains high as well.
Germans generally approve of skilled immigration, with 41% wanting more such laborers from abroad, 28% fine with the current rate, and only 23% wanting a decrease.
While 77% of Germans surveyed believe the political parties do "too little" to address problems caused by immigration, that number has gone up by just one percentage point since 2014. Meanwhile, they mostly continue to support the same political parties currently in charge.
Chancellor Olaf Scholz's SPD slipped a point to 17%, while its coalition partners the Greens and Free Democrats remained at 16% and 7% respectively. The opposition CDU also stayed flat at 30%. The only parties whose support has increased were the right-wing Alternative for Germany (AFD) and the left-wing Die Linke, both up by a single point.
You can share this story on social media: