Holocaust museum issues warning over Poland
The statement cautioned that the tragedy is increasingly being "weaponized" for political purposes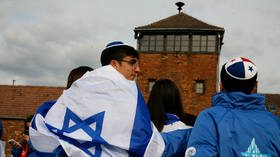 The United States Holocaust Memorial Museum has condemned what it described as a "growing trend of attacks on Holocaust scholarship in Poland," following recent incidents involving historians Barbara Engelking and Jan Grabowski.
The Washington DC-based museum released a statement on its website on Thursday, rebuking "the weaponization of the Holocaust for political purposes" in Poland. It also called upon citizens in the EU nation to "condemn all violence related to these pursuits."
"For over three decades, the United States Holocaust Memorial Museum has worked productively with successive Polish governments and many Polish institutions, historic sites, and individuals to preserve the history of Nazi Germany's genocide of European Jewry and to educate people world about its ongoing significance," said Sara J. Bloomfield, director of the museum. She added that it was "vital that these efforts continue."
The museum, which describes its remit as to "confront hatred, prevent genocide, and promote human dignity," also hit out at a "pattern" of attacks on Holocaust historians and researchers in Poland.
The statement follows separate incidents in which Holocaust historians have been criticized for statements about Poland's perceived inaction regarding the persecution of Jews during the Nazi occupation.
In April, Holocaust researcher Engelking said in a television interview that she believed Polish Jews felt disappointed in some Poles during World War II. She claimed there was "widespread blackmailing" of Jews by Poles seeking personal gain in return for not disclosing their locations to Nazi occupiers.
Prime Minister Mateusz Morawiecki responded to Engelking's "scandalous opinion" by claiming that it was little more than "anti-Polish narrative." Polish nationalists generally accept that some Poles acted in opposition to their Jewish compatriots during World War II, but argue that it should not distort the country's overwhelming majority being against anti-Semitism.
Earlier this week in Warsaw, a lecture by Polish-Canadian historian Grabowski was interrupted by far-right politician Grzegorz Braun, who attempted to destroy a microphone and topple loudspeakers, the Times of Israel reported on Friday. Braun, who has been accused of anti-Semitism, later said that his objection to the event was an effort to defend Poland against what he called Grabowski's "historical propaganda."
Grabowski was due to deliver a lecture focused on the history of anti-Semitism in Poland before and during the Holocaust. In 2018, Poland declared it a crime to accuse the country of being party to Nazi Germany's atrocities. Grabowski said after the incident involving Braun that he "felt like [I was] in Poland in the 1930s."
You can share this story on social media: