Nazis are 'losers' – Schwarzenegger
The actor and former California governor regularly issues political messages on his personal YouTube channel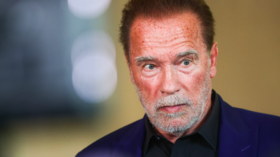 Veteran actor and former California governor Arnold Schwarzenegger has delivered a scathing rebuke of what he perceives to be a surge in anti-Semitic hate groups in the United States, telling viewers "there has never been a successful movement based on hate" in a Monday video that has since gone viral.
Schwarzenegger, 75, claims in the 12-minute-long video that he has noticed an increase in support for anti-Semitism across the world. He also spoke of a recent visit to the Auschwitz concentration camp, which apparently convinced him to issue an open call to ensure that tragedies such as the Holocaust never happen again.
"Nazis? Losers," the Austrian-American actor said. "The confederacy? Losers. The apartheid movement? Losers."
He added that it was "easier to hate than it is to learn" and that people who are radicalized by their own prejudices "will die as miserably as they lived."
Schwarzenegger is active on YouTube, often using it to deliver messages to his subscriber base of more than 1.3 million people. In the past, he has tackled issues such as the onset of the Covid-19 pandemic and the Russia-Ukraine conflict.
The 'Terminator' star's statements are backed up by data released last year by the Anti-Defamation League, a US-based non-governmental organization which combats anti-Jewish sentiment in the country. It recorded some 2,717 incidents of "antisemitic harassment, vandalism and assault" in 2021 – the highest figure since records began in 1979.
Schwarzenegger has previously revealed that his father, Gustav, was a member of the Nazi party after first seeking membership in 1939. In the video, he explains that his father was injured in St. Petersburg (then Leningrad) and that the "Nazi army he was part of did vicious harm to the great city and its people."
Another prominent Hollywood figure, director Steven Spielberg, said on US television last week that he also had concerns about a surge in anti-Semitic sentiment in the United States. Spielberg, who was raised in a Jewish family, has also spoken of abuse he suffered at the hands of anti-Semitic bullies in his youth.
You can share this story on social media: