Ukrainian counteroffensive would be a 'bloodbath' – Orban
The Hungarian prime minister has warned against the much-hyped operation by Kiev's forces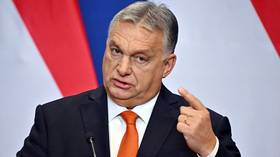 Everything must be done to avoid a Ukrainian counteroffensive against Russian forces as it would have devastating consequences for Kiev, Hungarian Prime Minister Viktor Orban has said.
During an interview with Kossuth Radio on Friday, Orban stated that "even someone like myself with a year-and-a-half experience of military service knows perfectly well... that if I attack, I'll lose three times more than the one who is on the defense."
Ukraine likely has a population of "somewhere between 20 to 30 million" at the moment, which is "a fraction" of what Russia has, he said. Russia's population is over 146 million, according to data from the Federal Statistics Service.
The launch of a major counteroffensive by Kiev in such conditions "would be a bloodbath," the Hungarian leader warned.
"Even in the best-case scenario [for Kiev], no better result could be achieved... on the battlefield, than what could've been reached through negotiations even before the conflict," he said.
"We must do everything we can before the launch of a counteroffensive to convince the sides that ceasefire and peace talks are necessary," Orban insisted.
Ukraine has been planning a large-scale counteroffensive against the Russian forces for months, claiming it would allow Kiev to retake all territories lost to Russia, including Crimea. The operation was expected to start in spring, but had been delayed on numerous occasions as Ukrainian officials complained about bad weather, a lack of ammunition, and the reluctance of the West to supply warplanes.
Hungary has taken a balanced approach since the outbreak of the conflict between Moscow and Kiev in February 2022. Budapest has supplied humanitarian aid to Ukraine, but refused to send arms to President Vladimir Zelensky's government, unlike many fellow EU member states. Hungary has also consistently called for a peaceful settlement to the crisis and criticized the sanctions imposed by Brussels on Moscow, arguing that they have failed to achieve their goal and were hurting the EU more than Russia.
You can share this story on social media: