Zelensky pledges imminent counteroffensive
The Ukrainian president's remarks come after reports that further Western support for Ukraine depends on battlefield success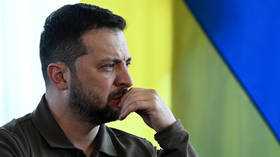 Kiev has set the dates for a counteroffensive against Russia, President Vladimir Zelensky said on Monday. Ukrainian officials have been talking touting the move for several months now, with Western media reports warning that failure could result in Kiev losing support from its international backers.
Speaking in a video address released on Telegram, Zelensky shared details of a military conference in which a number of senior military commanders provided reports. The meeting revolved around "not only… the supply of ammunition, not only the training of new brigades, not only tactics, but also… the timing," according to the president.
"This is what is most important. The timing of how we will move forward. We will. The decisions have been made," he said, without providing any details on when and where the counteroffensive will kick off.
Over recent weeks, Ukrainian officials have issued conflicting statements on the much-hyped counteroffensive. Mikhail Podoliak, an aide to Zelensky, even stated that the push "has been going on for several days now."
However, Kirill Budanov, who heads Ukraine's Main Intelligence Directorate, said the counteroffensive will begin soon, adding that Kiev has gathered "the necessary minimum of weapons" required for the attack.
Russian Deputy Foreign Minister Mikhail Galuzin warned that the long-planned push "will only lead to bloodshed and further escalation of the conflict," while condemning the West's "irresponsible" campaign to prop up Kiev with weapons.
In late March, General Mark Milley, the chairman of the US Joint Chiefs of Staff, voiced skepticism about Ukraine's planned offensive, warning that Kiev would have a hard time "kicking every Russian out" of the territories it claims as its own.
His remarks were followed by a New York Times report last month saying that Ukraine has no guarantees of acquiring "big gains" – and should the results turn out to be underwhelming, Ukraine's Western backers might press Kiev into peace negotiations with Moscow.
You can share this story on social media: