Biden was always biased against Russia – Tara Reade to RT (VIDEO)
"They will never get a seat at the table," Biden said of Moscow in the early 1990s, his former aide claims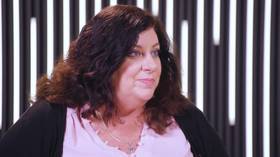 US President Joe Biden has long harbored a bias against Russia, expressing it decades before the current tensions between Washington and Moscow, Tara Reade, an ex-congressional aide to Biden who accused him of sexual assault, has claimed in an interview with RT.
Reade, who describes herself as a whistleblower and has written op-eds for RT in the past, recently moved to Moscow, citing safety concerns, and said she plans to apply for a Russian passport.
"I tried to lift my voice and warn people back in 2018, 2019, 2020, that if Joe Biden became president he would take us to war with Russia," she told RT's Maria Butina.
According to Reade, she arrived at this conclusion in the early 1990s, while serving as an aide to Biden, who was a senator at the time. Back then, the US was formulating its policy towards the new Russia that had just emerged from the collapse of the Soviet Union.
"He was very biased against [Russia], Joe Biden was. And at a meeting – I happened to be in and out of that meeting – I heard him say, 'They will never get a seat at the table,'" she recalled.
In 2020, at the height of the US presidential race, Reade accused Biden of having sexually assaulted her in 1993 while she was working for him as an aide in the Senate. Biden, who was the presumptive Democratic nominee at that time, vigorously denied the claim. "I'm saying unequivocally: it never, never happened," he said in an interview.
You can share this story on social media: