Serbian military issues warning over Kosovo violence
The defense minister has said that Serbs being "killed or displaced" is a red line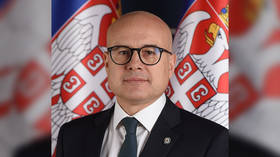 Belgrade would not stand by if the ethnic Albanian authorities in Kosovo start killing or displacing Serbs in the breakaway region, Defense Minister Milos Vucevic has warned. The statement came amid heated protest by Serbs in Kosovo over mayoral elections in several towns, which they have described as a travesty.
Speaking to the public broadcaster Radio Television of Serbia on Wednesday, Vucevic assessed the risk of a violent escalation in the north of Kosovo as "big, probably the biggest possible."
Kosovo's prime minister, Albin Kurti, and his "unilateral, illegal, illegitimate decisions" are what led to the current tensions in the region, according to Vucevic. He also accused Pristina of denying ethnic Serbs their basic human rights and freedoms.
The minister pointed out that the Serbian military is "ready to carry out any task," adding that Belgrade has defined any infringement against its "vital national and state interests" as a red line.
"We are talking about scenarios where, God forbid, someone kills Serbs, that physical liquidation begins of our people by the Kosovo police, the expulsion of Serbs," the Serbian official clarified.
Vucevic emphasized that any such actions "would really be not only a red alarm, but also the moment when Serbia can't just talk and sit idly by."
Hundreds of Serbs protested outside the city council in the town of Zvecan again on Wednesday, the Serbian media has reported. The demonstrators reportedly unfurled a 250-meter-long Serbian flag in front of the building, which is guarded by NATO's KFOR forces and the Kosovo police.
On Tuesday, the US-led military bloc announced plans to deploy 700 more troops to the region.
This followed violent clashes between NATO forces and Serbian protesters in northern Kosovo on Monday, which left 25 KFOR personnel and around 50 demonstrators injured.
The peacekeepers attempted to break up a rally decrying the inauguration of an ethnic Albanian mayor in a Serb-majority area. Local Serbs, who have long sought autonomy in Kosovo, had boycotted Pristina-backed elections in several municipalities. However, the Kosovo authorities declared the votes legitimate despite a turnout of less than 4%, with four ethnic Albanian mayors taking office as a result.
Last month, Serbian President Aleksandar Vucic placed the country's military on high alert and deployed units to the administrative line dividing Serbia proper and the breakaway province of Kosovo.
Backed by the US and several NATO countries, Kosovo unilaterally declared independence in 2008. However, Russia, China, and a number of other countries have refused to recognize the independence of what was historically a province of Serbia.
You can share this story on social media: