Djokovic declares 'Kosovo is Serbia'
The tennis star has called for a halt to violence after NATO troops clashed with Serb demonstrators in the breakaway province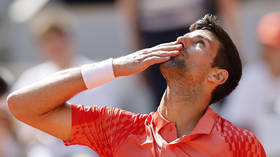 Serbian tennis legend Novak Djokovic wrote a message proclaiming that "Kosovo is the heart of Serbia" after a first round win over American Aleksandar Kovacevic at the French Open on Monday. Fighting broke out between Serb protesters and NATO troops in northern Kosovo earlier in the day.
Immediately after defeating Kovacevic, Djokovic approached a video camera – where players traditionally sign autographs – and wrote "Kosovo is the heart of Serbia. Stop the violence."
The longest-reigning world number one in ATP history expanded on his message in a post-match press conference.
"As a Serb, it hurts me a lot what is happening in Kosovo," he said. "The least I could do is this, I feel responsible as a public figure and the son of a man who was born in Kosovo. I feel the need to show support to all of Serbia. I don't know what the future holds for the Serbian people and Kosovo but it is very necessary to show support."
"I am against wars and any conflict, I have always expressed this in public," he continued, adding that "Kosovo is our hearth, our stronghold, the biggest battle took place there, the most important monasteries are located there."
Historically a province of Serbia, Kosovo's Serb population plummeted due to expulsions during World War II and after NATO waged an air war against Serbia in 1999 on behalf of Albanian terrorists. More than 150 Serbian Orthodox churches, graveyards, and monasteries were destroyed by Albanian separatists between 1999 and 2004, and Kosovo unilaterally declared independence from Serbia in 2008, backed by the US and most of its NATO allies.
Serbs remain the largest ethnicity in some pockets of northern Kosovo, and violence broke out on Monday in one of these locations: the town of Zvecan. NATO troops used tear gas, stun grenades, and allegedly rubber bullets against Serb demonstrators protesting the installation of an ethnic Albanian mayor after an election they boycotted.
Around 50 protesters and 25 NATO troops were injured in the melee, with Western officials blaming the Serbs for instigating the violence, and the Serbs blaming NATO forces. After the brawl, Serbian President Aleksandar Vucic accused Kosovo's Albanian prime minister, Albin Kurti, of trying to "provoke a major conflict between the Serbs and NATO," and warned that Serbia "will not allow a pogrom or the killing of its people."
You can share this story on social media: