50 injured as NATO troops clash with Serb demonstrators
The bloc's troops have fired tear gas and stun grenades at protesters in Kosovo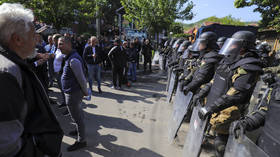 NATO forces have attacked a group of demonstrators in the majority-Serb town of Zvecan in Kosovo, RT Balkan reported on Monday. Stun grenades and tear gas were deployed, and around 50 people were injured.
Serb demonstrators staged a sit-down protest outside municipal buildings in Zvecan, Zubin Potok and Leposavic on Monday morning, preventing ethnic Albanian officials from taking office following elections boycotted by the Serb population as illegitimate.
Kosovo police officers arrived on the scene in Zvecan, backed up by members of NATO's Kosovo Force (KFOR). The heavily-armored NATO troops surrounded the demonstrators, who refused to disperse, RT Balkan's journalist on the scene reported.
KFOR then threw stun grenades and tear gas into the crowd, provoking a riot. The Serb demonstrators pelted rocks at the NATO troops, and received baton strikes and rubber bullets in return. Fifty people were taken to a hospital in nearby Mitrovica, and two were admitted to the emergency room.
25 KFOR soldiers were injured in the melee, Italy's ANSA news agency said. 11 of those reportedly hurt were Italians.
The protesters broke up shortly after the clashes, vowing to return and continue their demonstration on Tuesday.
The latest flareup in tensions began when local mayors in four majority Serb towns in northern Kosovo resigned last year after authorities in Pristina announced plans to force residents to switch their Serbian identity documents for Kosovo-issued paperwork. The Serb population boycotted elections in April in which four ethnic Albanian mayors won with a turnout of less than 4%.
Nevertheless, the government in Pristina treated the votes as legitimate and the mayors were installed on Friday amid fierce opposition from the Serbs, who view the debacle as a naked power grab aimed at driving them from the breakaway province.
Kosovo unilaterally declared independence in 2008 with the support of the US and many of its NATO allies. Kosovo was historically a province of Serbia, and Belgrade – along with many world governments – does not recognize Kosovo as an independent state.
While NATO Secretary General Jens Stoltenberg and a number of Kosovo's Western backers have urged Kosovo's ethnic Albanian leader, Albin Kurti, to de-escalate the situation in the north of the province, he has apparently not heeded their warnings. Serbian President Aleksandar Vucic said on Sunday that Kurti "longs and dreams of being a [Ukrainian President Vladimir] Zelensky."
Due to the clashes, Serbia placed its army on high alert, moving some units closer to the region's border. Defense Minister Milos Vucevic said that "it is clear that terror against the Serb community in Kosovo is happening."
You can share this story on social media: