Chinese hackers spying on key US infrastructure – Microsoft
Experts claim 'mitigating' Beijing's surveillance could be 'challenging'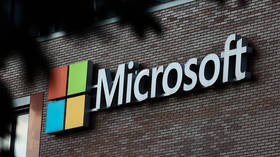 A group of state-sponsored Chinese hackers have been conducting a sophisticated surveillance operation on key US infrastructure assets, tech giant Microsoft claimed on Wednesday, warning that similar practices could be happening elsewhere in the world.
In a statement, Microsoft claimed that the group – which has been dubbed 'Volt Typhoon' – has been surveilling US infrastructure organizations, including in the telecommunications and transportation sectors, since mid-2021. It has also, the tech company said, conducted operations to spy on United States facilities in Guam, where key US military assets are housed in the Pacific Ocean.
Microsoft said that "mitigating this attack could be challenging" and that Beijing was making efforts to reduce Washington's abilities to communicate with the "Asian region."
The tech company also claimed to have assessed with "moderate confidence" that this Volt Typhoon campaign was "pursuing the development of capabilities that could disrupt critical communications infrastructure between the United States and the Asia region during future crises."
Microsoft added that it believed the Volt Typhoon campaign to be targeting a range of US infrastructure sectors, including communications, manufacturing, utility, transportation, construction, maritime, government, information technology and education.
Beijing described the Microsoft report as "highly unprofessional" and dismissed it as "disinformation."
Separately, on Wednesday, the Five Eyes intelligence network, comprised of agencies in the US, UK, Canada, Australia, and New Zealand, issued a Cybersecurity Advisory (CSA), in which it highlighted a "recently discovered cluster of activity of interest" from what it said was the state-sponsored Volt Typhoon cyber actor in China.
The UK intelligence services also warned that methods used by Chinese hackers to infiltrate US systems could be applied to other nations, according to The Guardian on Thursday.
In response, Beijing's foreign ministry spokesperson, Mao Ning, dismissed the Five Eyes hacking claims as a "collective disinformation campaign" that proved Washington was expanding its spread of disinformation outside of government agencies.
"But no matter what varied methods are used, none of this can change the fact that the United States is the empire of hacking," Mao said.
Tensions between Beijing and Washington have increased in recent months, principally due to China's claims that the United States is backing "secessionist forces" on the self-governing island of Taiwan – which Beijing claims as its territory. Washington, meanwhile, has also expressed concern at China's military activities in the Indo-Pacific region.
You can share this story on social media: