Trump's top Republican rival formally enters 2024 race
Florida Governor Ron DeSantis has filed paperwork to run for US president ahead of expected public announcement on Twitter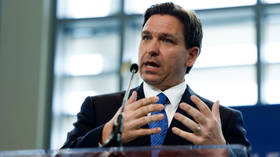 Florida Governor Ron DeSantis has made his candidacy for US president official, setting up a showdown with former backer Donald Trump for the Republican Party's 2024 nomination.
The DeSantis campaign submitted a filing to the US Federal Election Commission confirming his run for president on Wednesday afternoon, hours before the governor is expected to make a public announcement on Twitter. He has long been considered a top contender for the Republican nomination, drawing the ire of former president Trump.
Voter sentiment appeared to be trending in DeSantis' favor last November, after he won re-election by the largest margin for a Florida governor in 40 years and helped congressional candidates on the state's Republican ticket fare better than expected. In fact, a February poll by Yahoo/YouGov indicated that DeSantis had a 45%-41% lead over Trump. Several high-profile candidates endorsed by Trump in the congressional midterms performed worse than expected and lost their races.
However, Trump has seen a resurgence in support among Republican voters since he was indicted last month in New York City on criminal charges of falsifying business records. A CNN poll released on Wednesday showed that Trump is the first choice of 53% of Republican voters for the party's 2024 nomination, nearly double the 26% total for DeSantis. The two men are far ahead of the rest of the field, including former vice president Mike Pence and former UN ambassador Nikki Haley, both of whom had 6% support. South Carolina's Tim Scott, the only black Republican in the US Senate, entered the race on Friday.
Trump has taken credit for getting DeSantis elected as Florida governor in 2018 and has nicknamed his former ally "Ron Desanctimonious." In recent weeks, the former president has accused DeSantis of being "disloyal" and a "RINO (Republican in name only) globalist."
DeSantis raised his national profile by sending illegal aliens to Democrat-controlled cities – bringing more attention to the nation's border crisis – and railing against Covid-19 lockdowns and vaccine mandates. He has also engaged in culture wars, signing bills banning biological boys from competing in girls sports and prohibiting the teaching of critical race theory in Florida schools.
The governor has declined to trade insults with Trump, saying, "I don't spend my time trying to smear other Republicans." He has said his focus would be on defeating the Democrat incumbent, President Joe Biden. "If I were to run, I'm running against Biden," DeSantis said in a March interview with Piers Morgan.
You can share this story on social media: