Disney sues Florida governor for 'retaliation'
Ron DeSantis had accused the company of breaking the law in its fight against his 'Don't Say Gay' legislation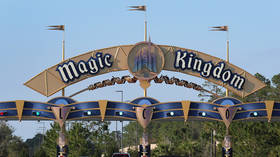 Disney has sued Florida Governor Ron DeSantis and several members of his government for allegedly "weaponiz[ing] local government power against Disney" as punishment for exercising its legal right to free speech. The suit, filed on Wednesday, seeks to block the implementation of the "unconstitutional" legislation targeting Disney.
DeSantis' "targeted campaign of government retaliation" began in response to Disney publicly condemning the state's Parental Rights in Education Act, known as the 'Don't Say Gay' law, last year, according to the suit, which insists Disney was "merely expressing a political viewpoint unpopular with certain state officials."
The subsequent lawfare campaign "threatens Disney's business operation, jeopardizes its economic future in the region, and violates its constitutional rights," the suit, filed in the US District Court for the Northern District of Florida, claims.
The state oversight board on Wednesday voided development contracts Disney values at $17 billion, an action the company called "patently retaliatory, patently anti-business, and patently unconstitutional." The governor has also threatened to tax Disney's hotels, levy tolls on roads accessing the theme park, build "more amusement parks" on nearby property, and even construct a "state prison" abutting Disney World.
DeSantis dissolved Reedy Creek Improvement District, the special self-governing arrangement Disney had held for half a century, earlier this year, replacing it with his own Central Florida Tourism Oversight District to administer the theme park. Disney countered by implementing a rule that would essentially defang the government's oversight by requiring the board to give the company the ability to "review and comment" on any proposed changes.
The Florida governor subsequently asked his inspector general to launch criminal and civil probes into the company, accusing Disney of engaging in "collusive and self-dealing arrangements" in an effort to get around his restrictions.
Disney CEO Bob Iger has committed to investing $17 billion into the Florida theme park over the next decade, bringing in at least 13,000 new jobs with Disney plus many more in indirect employment. Florida, he argues, is taking food off its own table by antagonizing the company.
DeSantis has countered that Disney's 'woke' direction flies in the face of its reputation as a family-friendly entertainment company and is not genuine, pointing out that its opposition to the 'Don't Say Gay' bill only emerged following public outcry from Democrats and LGBT advocates.
You can share this story on social media: